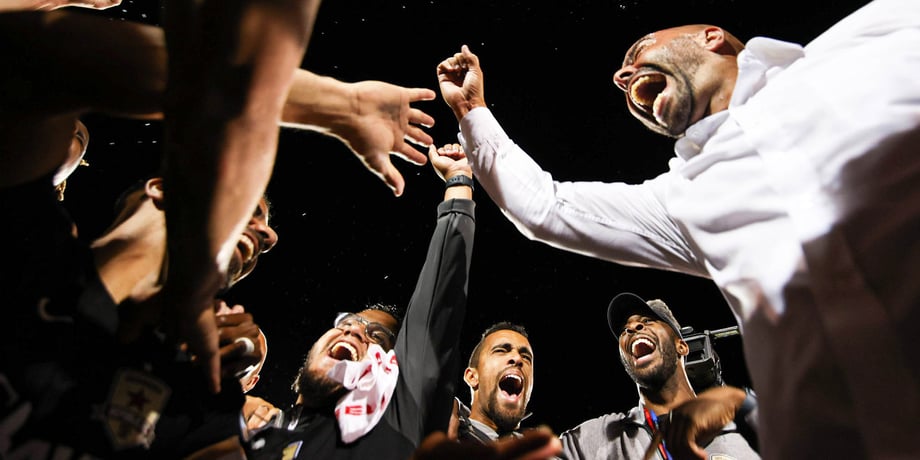 Sacramento Republic FC celebrate their win over Sporting Kansas City in the semifinal of the 2022 Lamar Hunt U.S. Open Cup. Photo courtesy of Grace Ogata-Beutler.
SACRAMENTO, CA (July 27, 2022) - It was without a doubt the biggest night in Sacramento Republic FC history in front of a sold-out Heart Health Park. The Indomitable Club defeated Major League Soccer's Sporting Kansas City and is moving on to the 2022 Lamar Hunt U.S. Open Cup Final for the first time in club history where they will meet Orlando City SC.
Sacramento Republic made their way to the semifinals after a monstrous 2-1 win over LA Galaxy in quarterfinals, having previously defeated Portland Timbers U23, Central Valley Fuego FC, Phoenix Rising and San Jose Earthquakes.
As for Sporting KC, they had a shorter route to the semis with wins over FC Dallas, Houston Dynamo and Union Omaha.
From the moment fans pulled into Cal Expo, people could feel the positive energy and the atmosphere from everyone walking into Heart Health Park. Sacramento showed up both on and off the field.
"This group, it's unbelievable what we have achieved in such short time together," said Sacramento goalkeeper Danny Vitiello. "We had five guys come back from last year's group and to be able to put out performances like we did tonight it's unreal for such amazing fans who did their job tonight and came out with all they did."
The first fifteen minutes were intense and full of action on both ends of the park. Sporting had the best of opportunities out of the gate with a shot from Shelton in the first minute of play. Sacramento responded on the other end with a shot from Jack Gurr that went just over the goal. Sporting KC captain Johnny Russell got his first look in the 12th minute as well with a header from a corner kick.
The first half displayed a defensive effort by Sacramento Republic, anchored by their goalkeeper Danny Vitiello who had several big saves, including two crucial stops right before halftime. Both Viader and Gurr were active and heavily involved in the flanks, finding Douglas Martinez and Keko while applying pressure on the Sporting KC midfielders.
The second half showed more of the first half with Sporting KC maintaining most of possession and Sacramento making most of the moments they had going forward. Keko had perhaps the best opportunity of the night for the Indomitable Club in the 61st minute of play when Gurr once again combined with Keko and Felipe. Luis Felipe then found Rodrigo Lopez who delivered a dangerous ball inside the six and the ball found Keko's feet after a poor clearance from the Sporting KC defense. Keko's strike was saved.
The game was determined from the spot after 120 minutes of play. Sacramento Republic was clinical from the mark scoring all five penalty kicks, including a sensational panenka-style execution from Maalique Foster and a spectacular delivery from captain Rodrigo Lopez to send the Indomitable Club to the final. Former USMNT player Graham Zusi was the only player that did not convert for Sporting KC.
"For me it's the mentality of this group. The togetherness of this group and the culture within the locker room," said Sacramento Republic Head Coach Mark Briggs. "That's what gets us through difficult moments and i think you've seen tonight, the guys are comfortable when uncomfortable."
With the win over Sporting Kansas City, Sacramento Republic became the first non-MLS team to reach the final of the Lamar Hunt U.S. Open Cup since the 2008 Charleston Battery.
"Anytime you can reach final it's a massive achievement, it's a massive accolade for the group of player, staff and club as whole," added Briggs. "It will be the biggest game for a number of our guys, coaching staff, players when we get there to Orlando."
Sacramento Republic will travel to Orlando for the 2022 Lamar Hunt U.S. Open Cup Final and play for an opportunity to not only become the first non-MLS team to win this tournament since the 1999 Rochester Rhinos, but also qualify for the 2023 CONCACAF Champions League and earn $300,000 in prize money.
--------------------------------------------------------------------------------------------------------
Sacramento Republic 0 (5) – 0 (4) Sporting Kansas City
Lamar Hunt U.S. Open Cup
Heart Health Park, Sacramento, California
July 27, 2022
Scoring Summary: SAC– None SKC – None
Penalty Shootout Summary: SAC – Damia Viader (good), Luis Felipe (good), Luther Archimede (good), Maalique Foster (good), Rodrigo Lopez (good) SKC – Johnny Russell (good), Daniel Salloi (good), William Agada (good), Felipe Hernandez (good), Graham Zusi (saved)
Misconduct Summary: SAC– Luis Felipe (caution) 48', Nick Ross (caution) 90+4 SKC – Ben Sweat (caution) 36'
Sacramento Republic FC: Danny Vitiello, Lee Desmond, Conor Donovan, Dan Casey, Damia Viader, Jack Gurr (Ferrety Sousa 90'), Luis Felipe, Rodrigo Lopez (C), Matt LaGrassa (Nick Ross 69'), Keko Gontan (Maalique Foster 69'), Douglas Martinez (Luther Archimede 118')
Unused substitutes: Carlos Saldana, Duke Lacroix, Rafa Jauregui
Stats – Shots: 13, Shots on Goal: 2, Saves: 8, Fouls: 14, Corner Kicks: 3, Offsides: 1
Sporting Kansas City: John Pulskamp, Graham Zusi, Andreu Fontas, Isimat Nicolas, Ben Sweat (Logan Ndenbe 116'), Erik Thommy (Felipe Hernandez 83'), Roger Espinoza, Remi Walter, Johnny Russell (C), Daniel Salloi, Khiry Shelton (William Agada 61')
Unused substitutes: Kendall McIntosh, Kayden Pierre, Robert Voloder, Marinos Tzionis
Stats – Shots: 31, Shots on Goal: 8, Saves: 2, Fouls: 14, Corner Kicks: 12, Offsides: 2
---
Connect with us! Follow Cal North on social media.