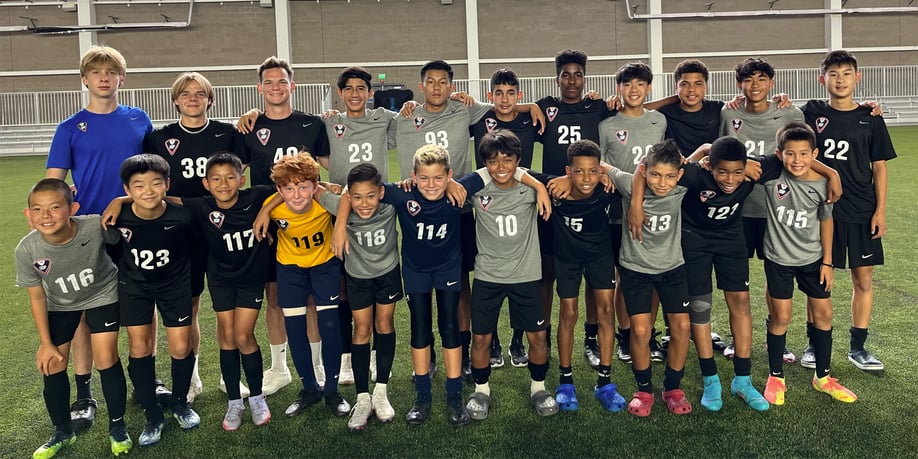 Several Boys from the Cal North ODP program got together for a picture at 2022 ODP Regional camp. Photo courtesy of Gina Castañeda
SALT LAKE CITY, UT (July 13-16, 2022) - Cal North Olympic Development Program (ODP) had several players invited to the 2022 West Region Summer ID Boys Camp.
The camp was able to provide additional training and mentorship from regional staff & a competitive environment with some of the best players in the region.
Players invited were identified in events such as the ODP Far West Championships that took place in January and the Portland Timbers Friendship Cup, which took place in May.
2005 Boys
Andy Alpizar
Montgomery Carey
Tobias Jacobson
Shawn McKinney
Adam Montero
Alvaro Jr. Picon
Daniel Yoon
Alejandro Benavides-Garb
Manuel Cano
Zach Giles
Dominic Miller
2006 Boys
David Apolinar
Tiko Moodie
Zach Ryan
Joseph Chalwin
Blake Harding
Hakuto Kremer
Jorge Medina
Jeremy Miller
Nolan Rittenberg
Carter Tseu
2007 Boys
Luke Georgeson
Alexis Lopez
Alan Magana
Martin Strasburger
Michael Borovikov
Jaden Campos
Collin Farley
Zaine Rocca
Ling Alexander
Arte Ortiz
Ronan Rattigan
2008 Boys
Stanley Chen
Bilal Cotter-Norwood
Nicolas Cortez-Reyes
Emmanuel Harris
Maxwell Nguyen
Michael Tse
2009 Boys
Brady Barthmaier
Cristiano Briceño
Dylan Hunt
Christopher Muñoz
James Tate
Christian Trelles
Jonathan Yepez
Zeiher Marcus
Kung August
2010 Boys
Charlie Wachs
Harrison Boyce
Chase Taylor
Cruz Tomori
Daen Hansen
Daham Yoon
Emmett Sturm
Hudson Man
Luca Kim
Zachary Gourlay
Zayden Mohammad Ishak
Nikola Zezelj
Erthan Elliott