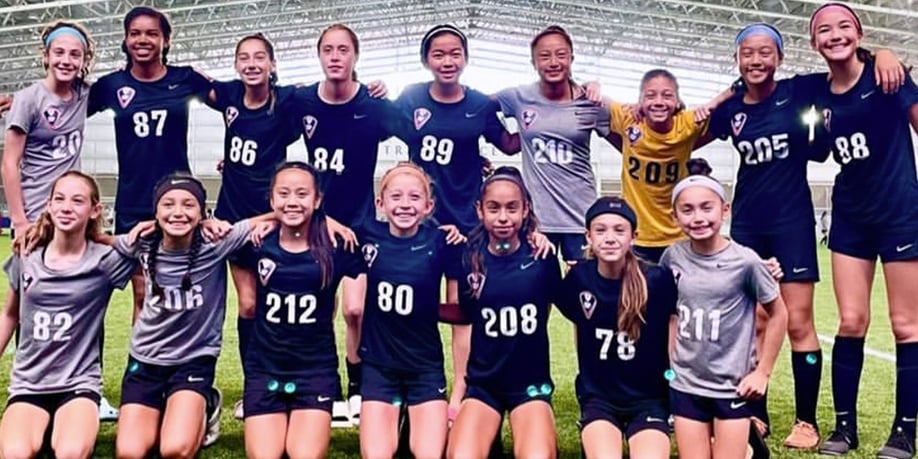 Several Girls from Cal North ODP got together for a picture at 2022 ODP West Region camp. Photo courtesy of Kenji Sytz
SALT LAKE CITY, UT (July 9-12, 2022) - Cal North Olympic Development Program (ODP) had various players invited to the 2022 West Region Summer ID Girls Camp.
The camp was able to provide additional training and mentorship from regional staff & a competitive environment with some of the best players in the region.
Players invited were identified in events such as the ODP Far West Championships that took place in January and the Portland Timbers Friendship Cup, which took place in May.
2005 Girls
Arpan Bahia
Alyssa Savig
Regan Stiner
Leah Sulzberg
Brooke Cox
Halah Elbeshity
Alyssa Houlihan
Samantha Liaty
Zoe Macknicki
Lily Montesinos
Lexi Schroeder
Isabelle Cuellar
Sydney Grundland Lanuza
Elizabeth Ledezma
Isabella Rodriguez
2006 Girls
Molly Tinsley
Yasmin Azar
Kiana Faucette
Morgan Halverson
Anna Olson
Lakelee Perkins
Shannon Porubski
Ella Phair
Hailey Scholosser
Juno Winegar
Priya Sibol
2007 Girls
Izabella Duink
Raya Leikin
Hanae Kambara-Coughlin
Ella Griffin
Jazleen Bell
Genevieve Cantu
Whitney Collet
Daniela Ghibanescu
Jalena Kimber
Urszula Root
Hibah Elbeshity
Sarah Fonseca
Alexandra Hsien
Jocelyn Luengo
Lauren Rozumowicz
Rafaella Sapiz
2008 Girls
Rowan Wilson
Aubrey McLin
Anya Aliakhverdiger
Lily Bella
Giovanna Costanzo
Isabella Fernandez
Macey Gauntt
Josslyn Goebel
Michelle Minor
Alanna Novenario
Jocelyn Pearcy
Aurora Perry
Cameryn Savig
Elsa Wallaway
Lewa White
Isabella Woods
2009 Girls
Elihanna Gallegos
Rhea Moore
Sophia Norton
Keira Stegall
Samantha MacNiven
2010 Girls
Neirah Hafis
Georgianna Zuniga
Emma Sullivan
Kaitlyn Ventura
Jayla Swindle
Sop Clara
Aviana Ivey
Janessa Fonseca
Belina Chavez
Milan Evans
Lynn Byun
Paloma John-Baptiste
Maya Stevenson
Alyssa Beltran
Luna Diaz
Alexa Garza
Alexandra Gonzalez
Mercy Karson
Alena Raymundo
Sadie Siedel
Ava Sytz
Cassandra Travers
Katelyn Wong