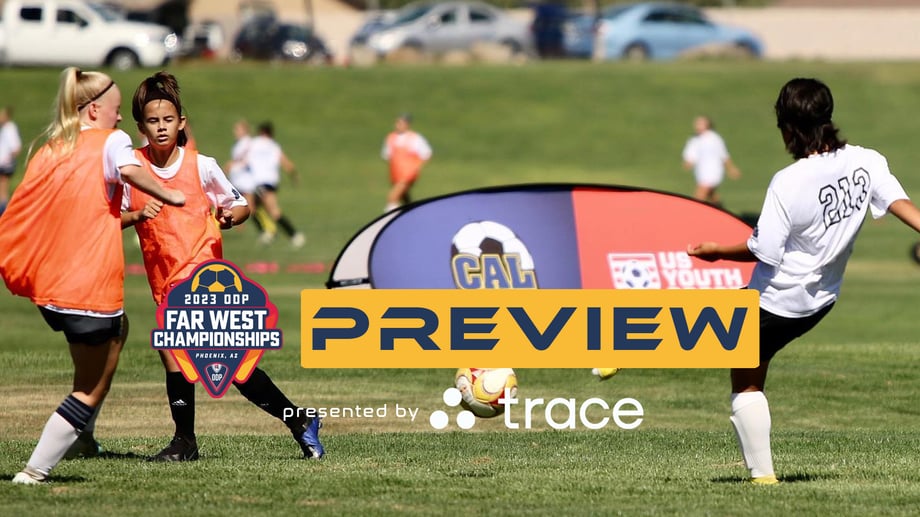 PHOENIX, AZ (Jan. 6, 2023) - Cal North Olympic Development Program will be competing at the 2023 US Youth Soccer ODP Far West Championships taking place at the Bell Bank Park powered by Legacy Sports USA in Mesa, Arizona. The event is scheduled to be played from January 6-9, 2022.
All 14 youth soccer associations from the West Region will be participating, including Alaska, Arizona, Cal North, Cal South, Colorado, Hawaii, Idaho, Montana, Nevada, New Mexico, Oregon, Utah, Washington and Wyoming will be in search of a regional championship.
Cal North Olympic Development Program will be taking 10 teams to this year's event, age groups ranging from 2006 - 2010 (U17 - U13) for both boys and girls. Last year as a state, Cal North had six teams move on past the group stage and on to the semifinals. From those six semifinalist, three teams reached the Championship match.
For the 2010 age groups this will be their first ODP Championships tournament. For the remaining teams, they have some experience under their belt with this event.
Looking ahead; the 2009 Girls, 2009 Boys and the 2006 Boys are the teams to keep an eye on and that is solely based on their performance from last year. Yes, rosters are not the same and players have come and gone, but the majority of the groups either count with plenty of returning players to build-up from last year, or will provide a fresh new look this time around.
See 2022 US Youth Soccer ODP Far West Championships Event Recap
The 2009 Girls will look to face Cal South once again in the Final after being drawn into separate brackets. First though, they must get past Utah, Hawaii, Oregon and Washington in group play and then win in semifinals. The states listed are all states they did not play last year at the ODP Championships. The 2009 Girls, coached by Garrett Morgan then, lost a close one to Cal South last year by the slightest of margins.
For the 2009 Boys, their tournament ended with a devastating 4-2 loss to Washington in the Championship match. The team coached by Lee Dunne at the time, played good soccer, but did not capitalize their opportunities in front of goal. Washington on the other end, did make their opportunities count. This year they will face Washington once again in their first game of group play. They will also see Nevada in their third group stage game, a state the 2009 Boys beat in semifinals last year. Their second game will be against Utah, a state they have not played yet at the ODP Championships.
The third and final team that reached the Championship match last year was the 2006 Boys led by Coach Benkay Kajihara. This team is only returning four players from last year, but count with plenty of new faces that are eager to make an immediate impact. The 2006 Boys will be facing three strong opponents in Oregon, Cal South and Utah, which is the state that won the U16 Boys bracket defeating Cal North.
This event without a doubt brings the best out of players as they will be seen by college coaches and regional coaching staff.
See team schedules below:
2010 Girls (U13)
Friday, Jan. 6 | 11:00AM vs Cal South | Field #21
Saturday, Jan. 7 | 9:00AM vs New Mexico | Field #23
Saturday, Jan. 7 | 5:00PM vs Colorado | Field #23
2010 Boys (U13)
Friday, Jan. 6 | 1:00PM vs Hawaii | Field #16
Saturday, Jan. 7 | 11:00AM vs New Mexico | Field #17
Saturday, Jan. 7 | 5:00PM vs Nevada | Field #08
2009 Girls (U14)
Friday, Jan. 6 | 11:00AM vs Utah | Field #14
Saturday, Jan. 7 | 11:00AM vs Hawaii | Field #22
Sunday, Jan. 8 | 1:00PM vs Oregon | Field #21
Sunday, Jan. 8 | 7:00PM vs Washington | Field #21
2009 Boys (U14)
Friday, Jan. 6 | 7:00PM vs Washington | Field #17
Saturday, Jan. 7 | 1:00PM vs Utah | Field #09
Saturday, Jan. 7 | 7:00PM vs Nevada | Field #07
2008 Girls (U15)
Friday, Jan. 6 | 7:00PM vs Alaska | Field #13
Saturday, Jan. 7 | 1:00PM vs Oregon | Field #14
Saturday, Jan. 7 | 7:00PM vs Utah | Field #14
Sunday, Jan. 8 | 11:00AM vs Cal South | Field #14
2008 Boys (U15)
Friday, Jan. 6 | 3:00PM vs Colorado | Field #08
Saturday, Jan. 7 | 9:00AM vs Utah | Field #18
Saturday, Jan. 7 | 3:00PM vs Arizona | Field #17
2007 Girls (U16)
Friday, Jan. 6 | 5:00PM vs Cal South | Field #11
Saturday, Jan. 7 | 3:00PM vs Washington | Field #12
Sunday, Jan. 8 | 9:00AM vs Colorado | Field #11
2007 Boys (U16)
Friday, Jan. 6 | 11:00AM vs Colorado | Field #08
Saturday, Jan. 7 | 9:00AM vs Washington | Field #19
Saturday, Jan. 7 | 5:00PM vs Hawaii | Field #19
Sunday, Jan. 8 | 3:00PM vs Montana | Field #19
2006 Girls (U17)
Friday, Jan. 6 | 3:00PM vs Oregon | Field #03
Saturday, Jan. 7 | 11:00AM vs Colorado | Field #04
Saturday, Jan. 7 | 7:00PM vs Utah | Field #04
2006 Boys (U17)
Friday, Jan. 6 | 5:00PM vs Oregon | Field #01
Saturday, Jan. 7 | 9:00AM vs Cal South | Field #01
Saturday, Jan. 7 | 3:00PM vs Utah | Field #01
Schedules are subject to change*** All kick-off times are MST
Stay up to date with Cal North ODP teams this weekend by following us on all social media platforms