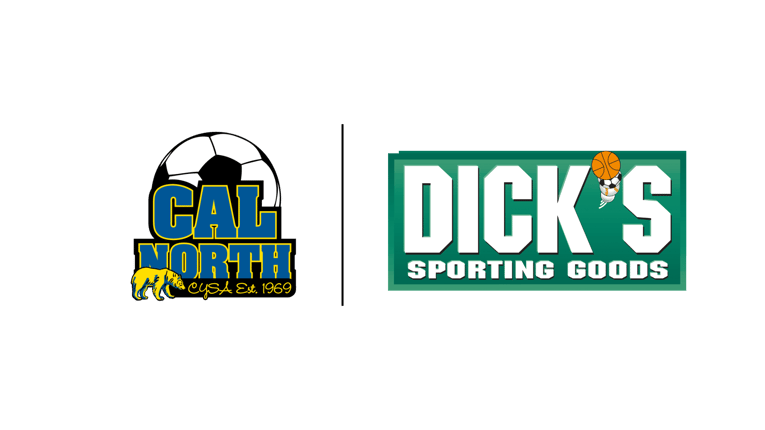 SACRAMENTO, Calif. ― Today, Cal North Youth Soccer Association announced a partnership renewal with DICK'S Sporting Goods for 2023. The partnership will provide players access to leading brands and impact their families in Northern California.
"We are very excited about partnering again with DICK'S Sporting Goods," said Kevin Crow, Director of Competitions at Cal North. "Our member clubs and their players' families will benefit from CN discount codes as they prepare for the upcoming season."
DICK'S Sporting Goods is committed to supporting teams, leagues and athletes in the communities they serve. DICK'S believes that sports make people better and are one of the best youth development tools on and off the field.
"We recognize the importance of supporting youth sports and are thrilled to continue our partnership with Cal North Youth Soccer Association in 2023," said Lyle Greene, Community Marketing Manager at DICK'S Sporting Goods. "We're proud to play a role in making soccer more affordable for local families."
DICK'S Sporting Goods has provided Cal North Members with coupons to kick start the new season! View Coupons: Valid until 12/31/23
About Cal North Youth Soccer Association
Cal North is the original youth soccer organization in Northern California, who has served generations of players, coaches, leagues, and clubs with storied histories. Cal North is a member of a much larger soccer community, and as a member, you are also a member of this world community. Players register to play with one of the more than 200 clubs or leagues formed by Cal North. Through affiliation, our leagues and clubs are also members of US Youth Soccer, US Soccer, and US Futsal. US Soccer, along with over 197 other national soccer organizations, are members of FIFA, the Federation Internationale de Football Association. FIFA serves as the international governing body for soccer and US Soccer has been a member since 1913. Together, local, national and international organizations form a family of support for the young soccer players of Cal North.
About DICK'S Sporting Goods
DICK'S Sporting Goods (NYSE: DKS) creates confidence and excitement by personally equipping all athletes to achieve their dreams. Founded in 1948 and headquartered in Pittsburgh, the leading omnichannel retailer serves athletes and outdoor enthusiasts in more than 850 DICK'S Sporting Goods, Golf Galaxy, Field & Stream and Public Lands stores, online, and through the DICK'S mobile app.
Driven by its belief that sports make people better, DICK'S has been a longtime champion for youth sports and, together with its Foundation, has donated millions of dollars to support under-resourced teams and athletes through the Sports Matter program and other community-based initiatives. Additional information about DICK'S business, corporate giving, sustainability efforts and employment opportunities can be found on dicks.com, investors.dicks.com, sportsmatter.org, dickssportinggoods.jobs and on Facebook, Twitter and Instagram.