The Two Groups Will Work Together to Provide Education and Guidance to Youth Soccer Clubs and Parents in Northern California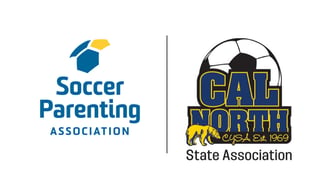 SACRAMENTO, Calif. ― Cal North Youth Soccer Association has announced a partnership renewal with the Soccer Parenting Association for the year 2023. The partnership will provide valuable resources and information through online educational opportunities. The partnership will provide valuable resources and information through online educational opportunities via zoom webinars and access to the coach and parent education platform: Soccer Parent Resource Center.
"Cal North is excited to be working alongside Soccer Parenting for the 3rd straight year," said Kevin Crow, Cal North Director of Player Development & Competitions. "Skye Eddy and her team do a fantastic job helping our member clubs educate their members on the importance of creating the right culture on the sidelines which improves the quality of the players' and referees' experience on the field."
The Soccer Parenting Association seeks to improve the experience for youth soccer players by engaging and supporting the players' parents on topics related to the Body, Mind, Coach, Parent, Next Level and the Game, as well as providing education for coaches to establish positive relationships with players and parents.
"Cal North recognizes the importance of parent education and parent engagement and we're ecstatic to continue this partnership between Cal North, Soccer Parenting and The Sideline Project," said Skye Eddy, Founder & CEO of Soccer Parenting. "Personally, I'm so excited to continue the important work that we're doing in northern California because together we can make youth soccer better and improve everyone's experiences in the game."
For only $500, Cal North clubs can become Soccer Parenting members and provide year-round access to the Soccer Parent Resource Center and the content from experts in areas such as club-parent relationships, childhood development, the psychological aspects of the game and much more that we have been building for nearly a decade.
"We want to build on the successes of the previous two years by empowering more parents, coaches and club leaders by providing access to the Soccer Parent Resource Center," said Skye Eddy.
Survey results of parents who have taken The Sideline Project Course not only report that their behavior on the sidelines has improved but also many describe how their relationship with their sons and daughters have improved as a result of this 15-minute course.
If you haven't already, take advantage of the 7-day pass at https://www.soccerparenting.com/cal-north/
About Cal North Youth Soccer Association
Cal North is the original youth soccer organization in Northern California, who has served generations of players, coaches, leagues, and clubs with storied histories. Cal North is a member of a much larger soccer community, and as a member, you are also a member of this world community. Players register to play with one of the more than 200 clubs or leagues formed by Cal North. Through affiliation, our leagues and clubs are also members of US Youth Soccer, US Soccer, and US Futsal. US Soccer, along with over 197 other national soccer organizations, are members of FIFA, the Federation Internationale de Football Association. FIFA serves as the international governing body for soccer and US Soccer has been a member since 1913. Together, local, national and international organizations form a family of support for the young soccer players of Cal North.
About Soccer Parenting Association
The Soccer Parenting Association believes that the top priority for all youth sport organizations should be a positive youth sporting experience where all children feel inspired, develop important life skills and establish healthy habits they will take with them for life. For more information, visit www.soccerparenting.com