FOR IMMEDIATE RELEASE
CONTACT: Angelica Rangel, Cal North Member Services & Marketing Specialist, arangel@calnorth.org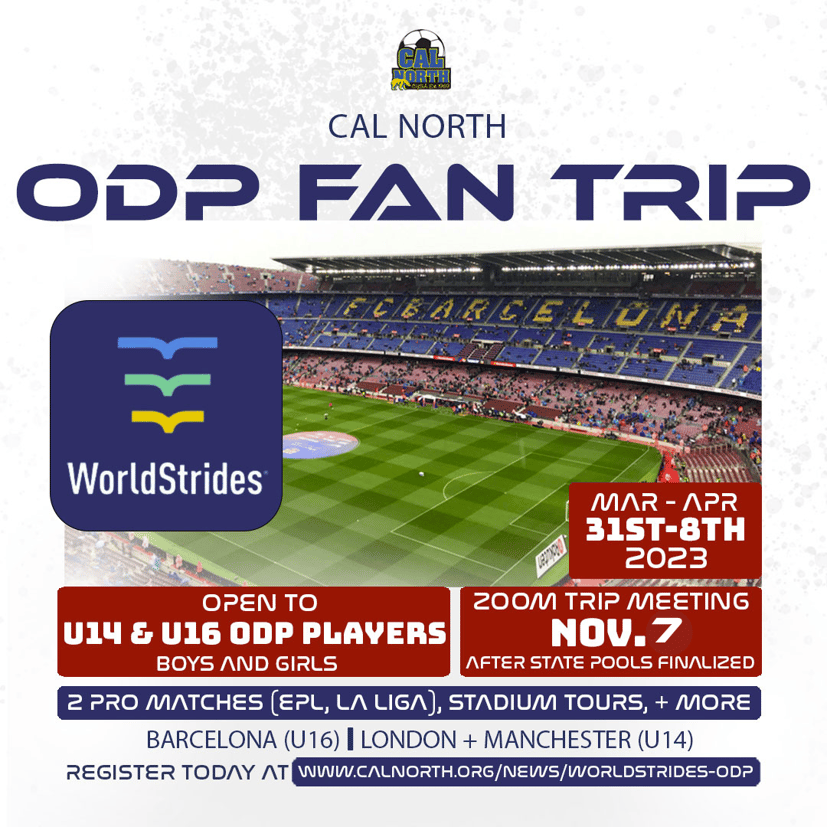 SACRAMENTO, CA (Aug 12, 2022) - Cal North has partnered with WorldStrides to offer Cal North Olympic Development Players in the U14 and U16 age groups an opportunity of a lifetime to sign up for our ODP Team Trip. This trip will take place Mar. 31st- Apr. 8th in 2023.
This will be a life-changing experience for the players and families. Family members are invited on this trip too! This is a 9-day trip over spring break from March 31st - April 8th, 2023 with the U14's heading to London & Manchester and U16's heading to Barcelona.
This trip will include 3 International ODP matches, 2 ODP Training sessions, and 2 Professional clinics with an Academy. In addition, ODP Players will watch 2 Pro Matches (EPL, La Liga), Tour Famous Stadiums, ODP Team Players will be able to visit famous landmarks/sites, Flights, Hotels, Meals, and even have a Private Bus included.
WorldStrides Sports operate international trips for 23 state ODP's and are also running the Cal North Women's World cup fan trip to Australia. Some of you might recognize the name from educational trips they offer in schools too! WorldStrides also offers help with fundraising, has early sign up discounts & offers the chance to only pay 40% before the trip!
On the tour, we will have our own 24/7 WorldStrides Sports Tour Director who will take care of everything from start to finish. We will just sit back and enjoy the sights and experiences.
We are hosting a trip meeting via zoom for all players and families on Monday November 7th . Zoom meeting details to sign up for the meeting are below
Click on the link below to register for this meeting:
U14's meeting – 6pm PST - https://worldstrides.zoom.us/meeting/register/tZMpdeugqzoqGNIzz5TZqHuzbNZ6FnwPQWcP
U16's meeting – 7pm PST - https://worldstrides.zoom.us/meeting/register/tZMvcemvpj4tE9yq9hLgog8dHAX7MjFh9KSc
After registering, you will receive a confirmation email containing information about joining the meeting.
Jamie Kent from WorldStrides Sports will run a short presentation on our trip. It would be great for at least 1 parent per family to attend along with their player. We will cover the trip inclusions (basically everything except lunches and souvenirs!), fundraising, and how to sign up for the trip. Cal North will also be on hand to answer any questions you may have.
We hope you can join us November 7th for more info to Barcelona (U16) and London & Manchester (U14)!⚽⚽⚽
For any questions, please email jamiek@worldstrides.com