FOR IMMEDIATE RELEASE
CONTACT: Angelica Rangel, Cal North Member Services & Marketing Specialist, arangel@calnorth.org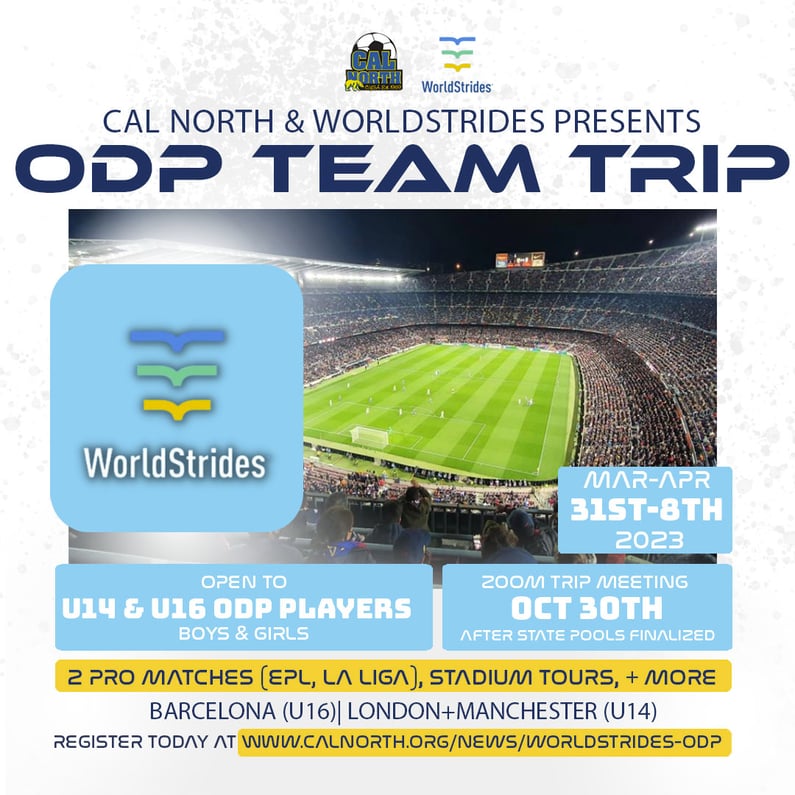 SACRAMENTO, CA (Aug 12, 2022) - Cal North has partnered with WorldStrides to offer Cal North Olympic Development Players in the U14 and U16 age groups an opportunity of a lifetime to sign up for our ODP Team Trip. This trip will take place Mar. 31st- Apr. 8th in 2023.
This trip will include 3 International ODP matches, 2 ODP Training sessions, and 2 Professional clinics with an Academy. In addition, ODP Players will watch 2 Pro Matches (EPL, La Liga), Tour Famous Stadiums, ODP Team Players will be able to visit famous landmarks/sites, Flights, Hotels, Meals, and even have a Private Bus included.
We will be having an informational zoom meeting to discuss details, trip itinerary, and financial support on October 30th after ODP Pools are finalized.
We hope you can join us October 30th for more info to Barcelona (U16) and London & Manchester (U14)!⚽⚽⚽
For any questions, please email jamiek@worldstrides.com