The San Jose Earthquakes & Cal North Will Work Together to Provide FREE Soccer Events at Pay Pal Park for Kids to Engage in a Community-Oriented Environment.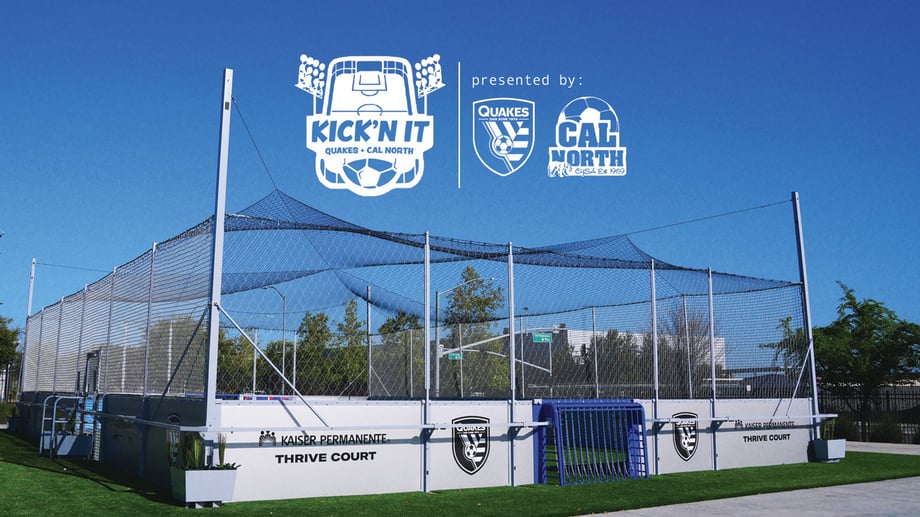 SACRAMENTO, Calif. ― Cal North Youth Soccer Association has announced a partnership with Major League Soccer original San Jose Earthquakes. The partnership will feature brand-new programming Kick'N It Summer Program for all kids born in 2016 living in the San Jose area.
"I'm so excited for our new partnership with the San Jose Earthquakes. We have a great opportunity for our community youth to engage in a healthy, pro-social, and fun activity, while being in a safe space," said Gina Castañeda, Cal North District 2 Commissioner. "Not to mention all the other benefits they will get from this family-friendly program. Soccer is more than a game, it's helping kids be healthy, stay healthy, teamwork, self-confidence, and self esteem that will help them for the rest of their life."
Kick'N It Summer Program participants will be introduced to the sport of soccer FREE of charge in a community-oriented environment. Teams in this program will also be able to enjoy Movie Nights presented by CEFCU and even attend selected Quakes II games. The Movie Nights presented by CEFCU will bring films to the stadium's large video board during six Tuesdays this summer, creating a family-friendly event where moviegoers of all ages can share an outdoor viewing experience.
This will be the sixth consecutive year of Movie Nights presented by CEFCU and the first year of Kick'N It Summer Program with Cal North & San Jose Earthquakes. The program will be open to mixed-gender teams and will play in a 4v4 format at the Kaiser Permanente Thrive Court inside PayPal Park.
"Providing a free, fun, and family-oriented environment for kids to play soccer is the goal of this program," said Shea Salinas, San Jose Earthquakes Club Ambassador and Head of Youth Soccer Partnerships. "We are excited to partner with Cal North to provide this opportunity to our soccer community. My hope is that it sparks a new passion for the game of soccer or fuels an existing one. This 4v4 program will bring people together, teach valuable life skills through soccer, and simply be a fun summer night out for the entire family."
2023 KICK'N IT & Movie Nights presented by CEFCU SCHEDULE
Tuesday, June 13
Tuesday, June 20
Tuesday, June 27
Tuesday, July 11
Tuesday, July 18
Tuesday, July 25
If your team would like to participate, Register HERE
To learn more about Kick'N It Summer Program, click HERE
About Cal North Youth Soccer Association
Cal North is the original youth soccer organization in Northern California, who has served generations of players, coaches, leagues, and clubs with storied histories. Cal North is a member of a much larger soccer community, and as a member, you are also a member of this world community. Players register to play with one of the more than 200 clubs or leagues formed by Cal North. Through affiliation, our leagues and clubs are also members of US Youth Soccer, US Soccer, and US Futsal. US Soccer, along with over 197 other national soccer organizations, are members of FIFA, the Federation Internationale de Football Association. FIFA serves as the international governing body for soccer and US Soccer has been a member since 1913. Together, local, national and international organizations form a family of support for the young soccer players of Cal North.
About San Jose Earthquakes
The San Jose Earthquakes are a Major League Soccer original franchise established in 1994. The Quakes are MLS two-time Supporter's Shield winners and two-time MLS Cup Champions.