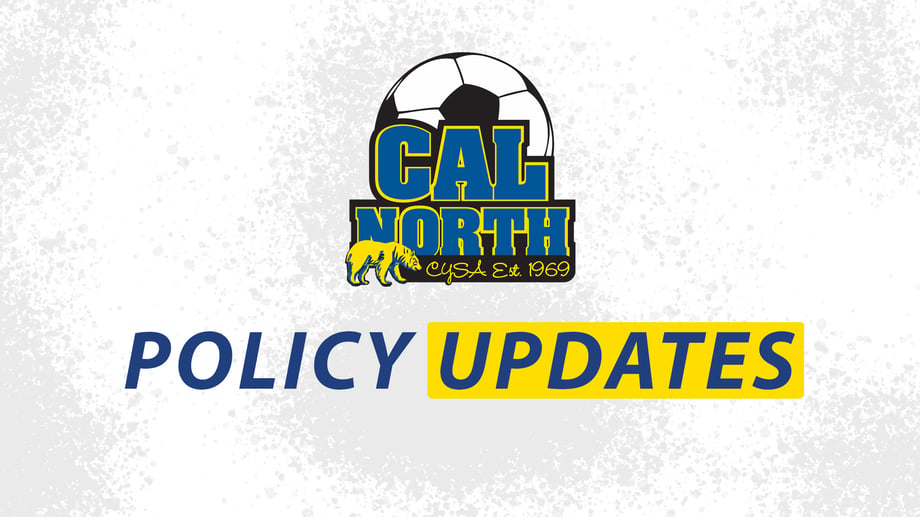 SACRAMENTO, Calif. ― Cal North Youth Soccer Association Board of Directors approved three policies in the latest Board meeting that was held on March 23rd, 2023. These policies will benefit membership growth going forward and will specify Hall of Fame inductions.
There are two policies regarding membership growth, which are Registration Policy & Players and Teams Policy. Those two policies will replace the following items from the PIM's:
General Policies and Procedures 3:02 - Registration Procedures (Found in

General and Specific Rules)
PIM 12-2 Guest Player / Team Official Policy
PIM 10-1 Registration
PIM 78-1 Definition of Terms
PIM 78-3 Teams Playing League Play Out of Their district of Residence
PIM 02-01 Participation in CYSA Sanctioned Tournaments and Events
PIM 90-1 Youth Playing Senior
PIM 76-1 Teams Playing in More than One League
Additionally, we would like to encourage every Board Member, Coach, Volunteer or Club Director involved in youth soccer to review the US Soccer's Safe Soccer: SafeSport Code Policy 212-3, reinforcing safety protocols for all kids and reassurance to all parents. We would like to highlight the following text from the policy:
Organization Members must apply, at a minimum, the Model Prohibited Conduct Policy to all activities under the Organization Member's jurisdiction and at least to (1) Organization Member employees and board members; (2) the members of such Organization Member; (3) athletes who are minors or referees who are minors (collectively, "Minor Athletes"); and (4) any adult individuals the Organization Member authorizes, approves or appoints to have Regular Contract (as defined in the U.S. Soccer Model Minor Athlete Abuse Prevention Policy ("Model MAAPP"), incorporated herein by reference) with or authority over Minor Athletes (collectively, "Adult Participants"). This policy must also prohibit retaliation against individuals making good faith reports of misconduct.
For further guidance on how and where to complete the required items under Cal North, please visit our Registration Hub
The third policy that was passed was the Hall of Fame Policies and Procedures 2023. The purpose of this policy is to honor those individuals who have made outstanding contributions to youth soccer as player, coach, referee, administrator or other youth soccer-related activities by worthy participants.
About Cal North Youth Soccer Association
Cal North is the original youth soccer organization in Northern California, who has served generations of players, coaches, leagues, and clubs with storied histories. Cal North is a member of a much larger soccer community, and as a member, you are also a member of this world community. Players register to play with one of the more than 200 clubs or leagues formed by Cal North. Through affiliation, our leagues and clubs are also members of US Youth Soccer, US Soccer, and US Futsal. US Soccer, along with over 197 other national soccer organizations, are members of FIFA, the Federation Internationale de Football Association. FIFA serves as the international governing body for soccer and US Soccer has been a member since 1913. Together, local, national and international organizations form a family of support for the young soccer players of Cal North.