FOR IMMEDIATE RELEASE
CONTACT: Javier Arellano, Cal North Marketing & Communications Specialist, marketing@calnorth.org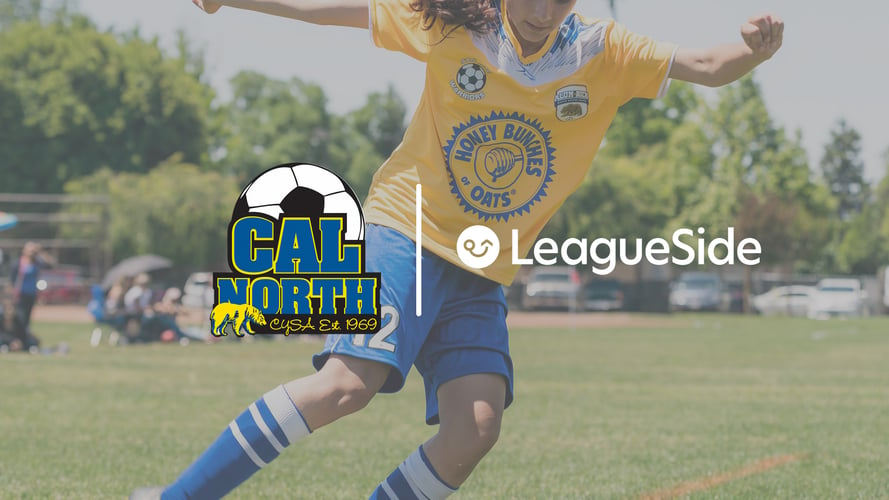 SACRAMENTO, CA (Feb. 15, 2022) — Cal North is excited to partner with LeagueSide to provide sponsorship opportunities to all Cal North sanctioned leagues & member teams beginning immediately. If you are a member league and would like more information on how to benefit from this partnership, please fill out the form here.
Additionally, this partnership will also support Cal North TOPSoccer players to promote the game to all kids regardless of age, level and/or physical abilities.
WATCH: The LeagueSide Difference
"LeagueSide is thrilled to be partnering with Cal North to connect their membership organizations with national and regional sponsorship opportunities," said Evan Brandoff, LeagueSide CEO. "LeagueSide is passionate about giving more kids the opportunity to play, and partnering with an organization that shares these values by growing soccer participation in California is incredibly exciting."
"Growing soccer participation in northern California is our TOP priority! Our partnership with LeagueSide will help our member clubs do just that by raising additional funds that can be used to offer more club financial aid!," said Kevin Crow, Cal North Director of Player Development & Competitions.
About Soccer LeagueSide
LeagueSide is the nation's leading community sports marketing platform, connecting brands with their communities through local sports sponsorships nationwide. LeagueSide was founded in 2015 with the mission to give everyone the opportunity to play. Since then, the company has grown it's platform to feature over 17,000 local sports organizations, and has brought sponsorships with companies like Chipotle, Uber, Verizon, and Post Brands to fields across the country.
About Cal North Soccer Association
Cal North is the original youth soccer organization in Northern California, who has served generations of players, coaches, leagues, and clubs with storied histories. Cal North is a member of a much larger soccer community, and as a member, you are also a member of this world community. Players register to play with one of the more than 200 clubs or leagues formed by Cal North. Through affiliation, our leagues and clubs are also members of US Youth Soccer, US Soccer, and US Futsal. US Soccer, along with over 197 other national soccer organizations, are members of FIFA, the Federation Internationale de Football Association. FIFA serves as the international governing body for soccer and US Soccer has been a member since 1913. Together, local, national and international organizations form a family of support for the young soccer players of Cal North.
More information on LeagueSide is available here.
###