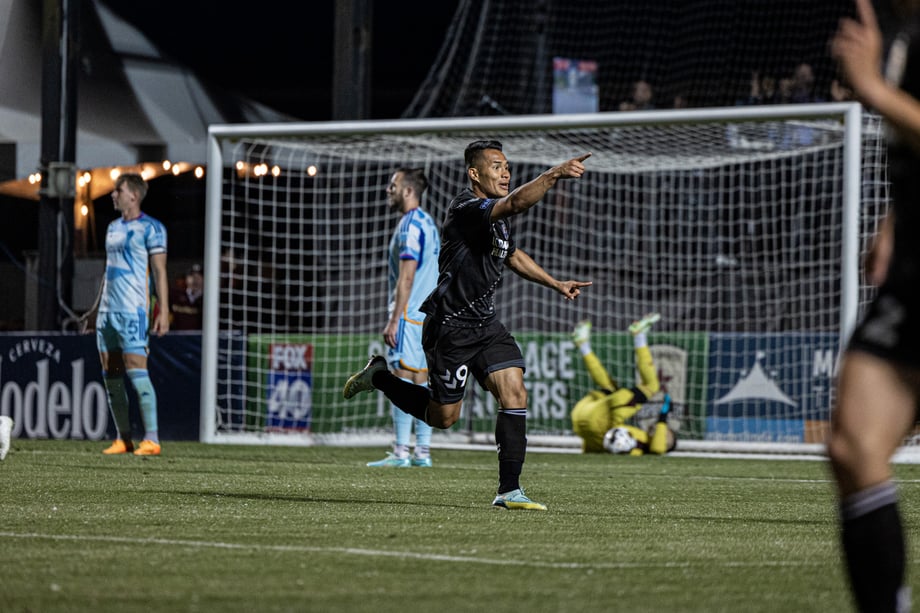 Sacramento Republic FC forward Sebastian Herrera celebrates one of his two goals in the U.S. Open Cup Round of 32 against MLS Colorado Rapids on May 9, 2023 at Heart Health Park.
SACRAMENTO, Calif. (May 9, 2023) - Two early goals thumped Sacramento Republic and proved to be the difference in a 4-2 loss to MLS side Colorado Rapids in the Round of 32 of the Lamar Hunt U.S. Open Cup.
Sacramento Republic made their way to the Round of 32 after beating NPSL side Crossfire Premier and fellow USL Championship rival Oakland Roots in previous rounds.
The Colorado Rapids advanced to the Open Cup's Round of 32 after earning a 3-1 win at home in the Third Round over USL League One side Northern Colorado Hailstorm FC on April 26.
The visiting side got on the score early on in the 3rd minute of play after a perfectly slotted ball from Danny Leyva to Jonathan Lewis who managed to sidestep Vitiello and score.
The second goal for Colorado came in the 14th minute of play courtesy of a corner kick by Alexander Gersbach and headed by defender Michael Edwards.
Sacramento would get on the scoreboard in the 30th minute with Keko finding goalscorer Sebastian Herrera.
Seven minutes into the second half, the Indomitable Club would rally back to level terms after Herrera scored his second of the night in similar fashion as his first, solid header into the back of the net and in.
Heart Health Park would go silent once again after Sam Nicholson scored in the 56th minute. That goal was scored less than five minutes after Sacramento got the equalizer.
As the game went on things got a little chippy from both sides. Republic's Shane Wiedt would see the worst of it in the 61st minute as he was booked twice within two minutes and sent off. The home team was down to 10 men.
In the 82nd minute, Michale Barrios would put the nail in the coffin for Colorado as they secured their Round of 16 place beating Sacramento 4-2. This will be Colorado's first appearance in the Round of 16 since 2017.
"Tough result obviously. We give up two sloppy goals really early on when you play against MLS teams and [the] caliber of opponents like we did, It's a hard mountain to climb. And then you climb that mountain and then give up a really sloppy third goal, which is the one that kills off the game really," said Mark Briggs, Sacramento Republic FC Head Coach.
Rodrigo Lopez, named the tournament's Lower Division Player of the Tournament, the overall Player of the Tournament honors and a shareholder of the 2022 USOC Golden Boot, was unavailable for this match after a successful surgery on a tendon in his right leg on Friday.
Sacramento Republic FC will now focus on USL Championship league play as they welcome Indy Eleven to Heart Health Park this coming Saturday, May 13 with kickoff set to 7:00 pm PT.
--------------------------------------------------------------------------------------------------------
Sacramento Republic 2 – 4 Colorado Rapids
Lamar Hunt U.S. Open Cup
Heart Health Park, Sacramento, California
May 9, 2023
Scoring Summary: SAC – Sebastian Herrera (Keko Gontán) 30', Sebastian Herrera (Jack Gurr) 52', COL – Jonathan Lewis (Daniel Leyva) 4', Michael Edwards (Alex Gersbach) 15', Sam Nicholson 56', Anthony Markanich (caution) 79'
---
Connect with us! Follow Cal North on social media.