FOR IMMEDIATE RELEASE
CONTACT: Javier Arellano, Cal North Marketing & Communications, marketing@calnorth.org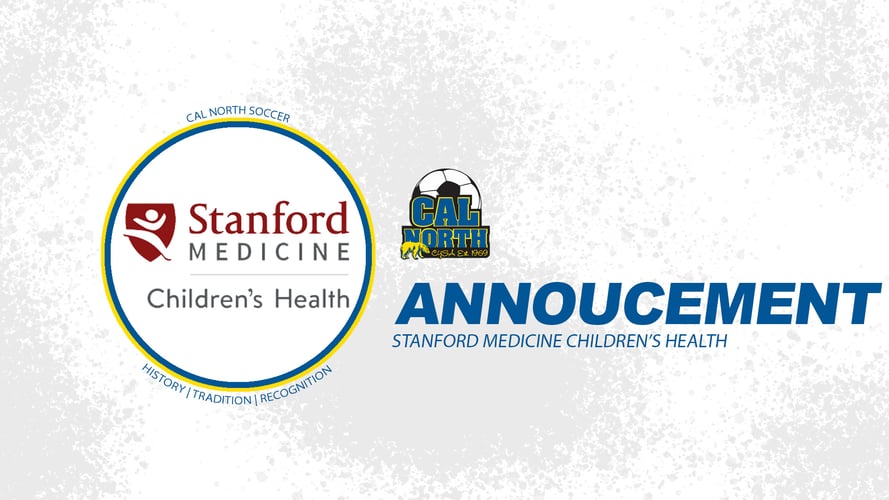 SACRAMENTO, Calif. (May 11, 2023) — Cal North today launched a year-long collaboration with Stanford Medicine Children's Health to promote health and fitness among northern California kids and provide specialized sports medicine to a youth athlete market that has experienced a substantial increase in sports-related injuries.
"It's not every day that an opportunity like this comes along, to collaborate with an organization like Stanford Medicine Children's Health whose passion and commitment to improving the health of our region's youth is beyond question," said Kevin Crow, Cal North Director of Player Development & Competitions.
The collaboration focuses on three main components:
Improving access to sports medicine
From concussion testing and treatment to minimally invasive procedures for sports injuries,
Stanford Medicine Children's Health sports medicine specialists treat any sports-related
condition. Stanford's team of sports medicine doctors, physical therapists and athletic trainers
work with kids of all ages to minimize the risk of injury and time away from sports. Stanford Medicine
Children's Health has six orthopedic and sports medicine locations throughout the Bay
Area, all with same- or next-day appointments available. See locations here.
Strengthening community
The collaboration will enhance Cal North Cups & Tournaments, as well as the Olympic Development Program, College Advisory Program and TOPSoccer with resources that will benefit members involved.
Protecting youth athletes and educating parents and coaches
The collaboration will develop soccer-specific curriculum & webinars on meaningful topics such as nutrition, injury prevention, rehabilitation and advanced cardiovascular training for Cal North members.
About Cal North Soccer Association
Cal North is the original youth soccer organization in Northern California, who has served generations of players, coaches, leagues, and clubs with storied histories. Cal North is a member of a much larger soccer community, and as a member, you are also a member of this world community. Players register to play with one of the more than 200 clubs or leagues formed by Cal North. Through affiliation, our leagues and clubs are also members of US Youth Soccer, US Soccer, and US Futsal. US Soccer, along with over 197 other national soccer organizations, are members of FIFA, the Federation Internationale de Football Association. FIFA serves as the international governing body for soccer and US Soccer has been a member since 1913. Together, local, national and international organizations form a family of support for the young soccer players of Cal North.
###