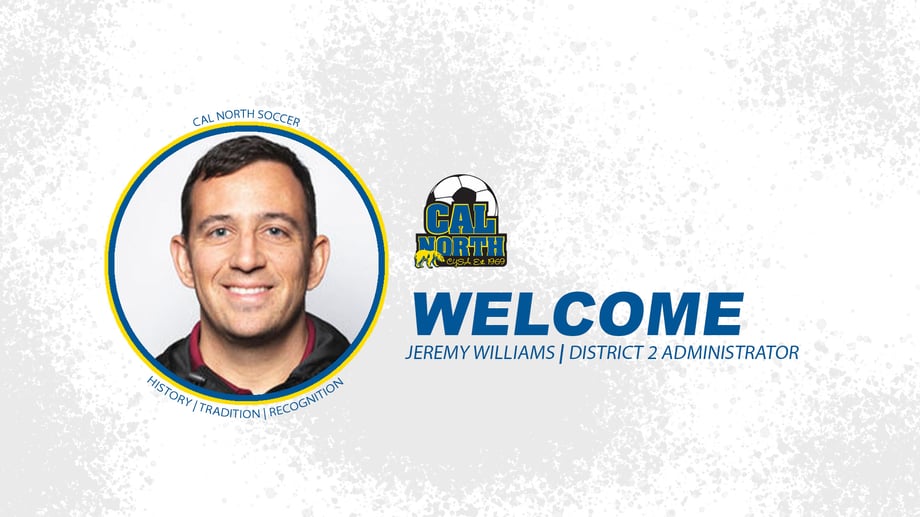 SACRAMENTO, Calif. (May 15, 2023) - Cal North is beyond excited to announce Jeremy Williams as District 2 Administrator. Williams comes to Cal North with valuable experience in youth soccer and is well known in the Northern California soccer community.
Williams grew up in Idaho, attended and played soccer at North Idaho College. After attending NIC, Williams moved to Portland, Oregon and continued to play, but most importantly started coaching. Jeremy has coached and managed programs at two professional organizations, New York Red Bulls and Sacramento Republic FC. At both organizations he worked to connect and build relationships with partner clubs. At NY Red Bulls, he took a serious interest in coaching education which has continued to date.
"I am extremely excited for this new role. I feel this is an excellent chance to help grow the game in my community, and work to connect, build and provide opportunities for clubs and organizations to enhance the player development process," said Williams. "My knowledge of the game at many levels as well as my understanding of the youth soccer landscape will allow me to build lasting and positive relationships with the clubs and programs Cal North serves."
He will be overseeing the Young Olympians Program, an excellent program to engage and provide top level training for our future ODP stars. Williams will also be taking a role in helping inform, engage and connect clubs, programs and leagues to coaching education opportunities through US Soccer. Everything from the grassroots courses to the "C course", Williams will have a strong focus on creating and planning programming that will benefit the coaches in District 2 as well as helping coordinate and inform membership of upcoming leagues and competitions.
Williams holds the USSF A-Youth License and Instructor Level 2 certification, as well as the National Youth License, the United Soccer Coaches Premier Diploma & Director of Coaching Diploma. Additionally, Williams holds a Masters Degree in Education with a focus in Curriculum Design & Assessment.
"My overall goal in this game is to have a positive impact on the players and families we work with. I feel that this role allows me to amplify that impact and help our partners along the way," he added.
If you would like to contact Jeremy Williams regarding participation in Districts 2, feel free to reach him at jwilliams@calnorth.org
###