FOR IMMEDIATE RELEASE
CONTACT: Javier Arellano, Cal North Marketing/Communications Specialist, marketing@calnorth.org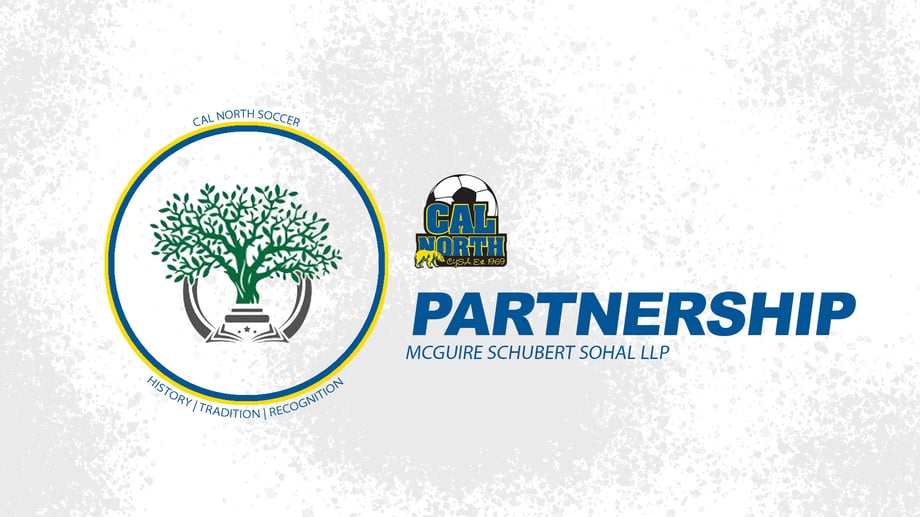 SACRAMENTO, Calif. ( June 21, 2023) - Cal North is excited to announce a partnership with McGuire Schubert Sohal LLP, a law firm based out of Northern California.
McGuire Schubert Sohal LLP specializes in real estate and business related legal services including property and contract disputes, buying/selling property, real estate development and financing, legal entity formation, business operation and planning, and general counsel for different business entities. They also provide estate planning services, including the formation of wills and trusts, as well as succession planning.
Alex Sohal, Founder & Partner of McGuire Schubert Sohal LLP, is a former youth soccer player from Northern California and was also part of the Cal North Olympic Development Program (ODP). Sohal has significant experience working as general counsel to business entities as well as a broad understanding of different issues involving real estate and business operation. Alex can provide counsel on compliance matters, handles contract review, and provides legal opinions on general liability issues.
"Growing up playing soccer in Northern California taught me a lot about myself and how to navigate the different challenges that come in any team environment. I was able to travel significantly as a result of youth soccer and met many friends throughout the years, some of whom I remain close with to this day," said Sohal. "Soccer can serve as a means of connection for many kids as well as their families and getting involved with that again is something I have wanted to do, but had difficulty finding the time for. Fortunately, with my own law practice, I have the flexibility to grow into the different areas that may have been difficult in the past and provide a different sort of support for everyone involved in youth soccer."
With respect to their real estate and business services, these services are important because the legal knowledge McGuire Schubert Sohal LLP can provide is designed to ensure the client's best interests are maintained with a full understanding of the legal implications that may take place. Working with an attorney in these areas assures individuals that they are making an informed decision with both the pros and the cons of the different options laid out clearly. If anyone is interested in acquiring property or forming a business, or already has a business that needs counsel, having a legal expert by your side is the best way to ensure you have done everything you can to maximize the likelihood of a positive outcome.
For any Cal North member that uses McGuire Schubert Sohal LLP services, they will offer a reduced hourly rate for their hourly services and a discount on any flat fee projects they perform, such as for wills or trusts.
Regarding estate planning, being prepared for the inevitable is something that all families should consider. The conversation of how to set up a will or a trust can be challenging, but getting these documents in order can not only ensure your assets are set up for future generations, but in some instances can also protect your assets during your own lifetime. Individuals work hard to live the life they desire and setting up appropriate estate planning is one more step taken to protect your family.
"In my experience, creating a positive environment for kids to be themselves as they learn how to stand on their while own growing up is a key element to fostering a strong community for years to come," added Sohal. "My hope is that any services my firm can provide can promote that goal and allow for more kids and their families to experience the positives of youth soccer that I did."
About McGuire Schubert Sohal LLP
We are a team of experienced attorneys who specialize in community association law as well as business and real estate matters. We have a deep understanding of the laws and regulations that govern community associations, and we are dedicated to providing our clients with counsel of the highest level. Our team has a track record of success in helping clients navigate complex legal matters. In addition to our expertise in CID law, we also have extensive experience in all aspects of business and real estate law, including transactions, contracts, and disputes. At our law firm, we are committed to providing personalized, effective legal services to our clients. We take the time to listen to your needs and concerns, and we work tirelessly to achieve the best possible outcomes. Thank you for considering us for your legal needs. We look forward to serving you.
About Cal North Soccer Association
Cal North is the original youth soccer organization in Northern California, who has served generations of players, coaches, leagues, and clubs with storied histories. Cal North is a member of a much larger soccer community, and as a member, you are also a member of this world community. Players register to play with one of the more than 200 clubs or leagues formed by Cal North. Through affiliation, our leagues and clubs are also members of US Youth Soccer, US Soccer, and US Futsal. US Soccer, along with over 197 other national soccer organizations, are members of FIFA, the Federation Internationale de Football Association. FIFA serves as the international governing body for soccer and US Soccer has been a member since 1913. Together, local, national and international organizations form a family of support for the young soccer players of Cal North.