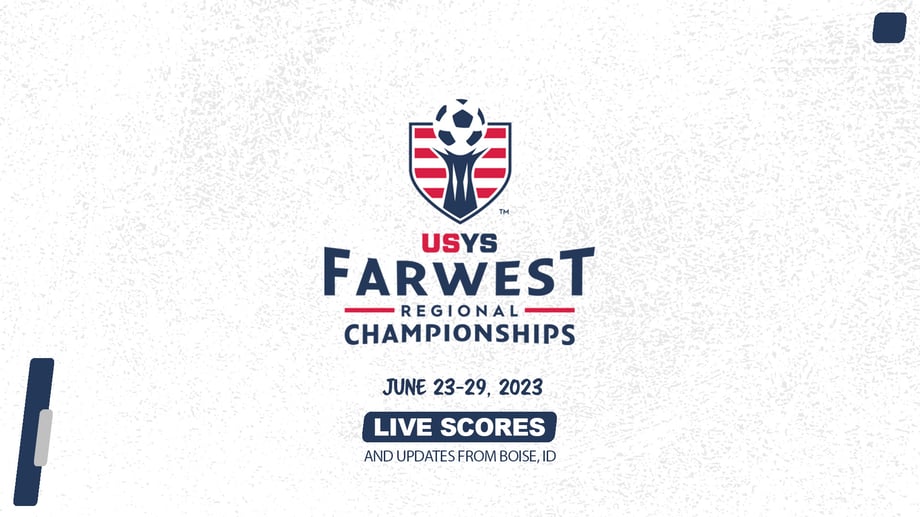 BOISE, Idaho (June 23-29, 2023) – Live scores and updates from the 2023 US Youth Soccer Far West Regional Championships at the Simplot Sports Complex in Boise, Idaho from June 23-29.
The US Youth Soccer National Championship Series is the country's most prestigious national youth soccer tournament, providing approximately 185,000 players on over 10,000 teams from US Youth Soccer State Associations the opportunity to showcase their soccer skills against the best competition in the nation while emphasizing teamwork, discipline and fair play.
The US Youth Soccer National Championships cap a yearlong series of competitions for boys and girls teams in multiple age brackets as teams earn their way from the top teams in their state to the regional championship tournaments. US Youth Soccer State Champions and selected wildcard teams through US Youth Soccer Regional Leagues in most age groups are eligible to compete in one of four US Youth Soccer Regional Championships. The champions in the 13U through 19U age brackets from each regional event will converge in July for the US Youth Soccer National Championships.
Annually the US Youth Soccer National Championship Series provides the nation's top collegiate coaches with the premier stage to identify and scout the most coveted players in the country.
It will feature 13U-19U Boys and Girls, who will participate and compete for a regional championship, with the champions earning a spot at the 2023 US Youth Soccer National Championships which will take place July 17-23 in Orlando, Florida.
Cal North has nine teams in Boise this week taking part in Far West Regional Championships. The event consists of three days of bracket play & play-in games, quarterfinals, semi-finals scheduled for Wednesday, June 28, and the finals round to follow on Thursday, June 29th.
This year the following teams will advance to the National Presidents Cup:
Event Dates
June 23-25: Group Play/Play-In Game

June 26: Rest Day

June 28: Semifinals

June 29: Finals
Scoreboards – focusing only on games featuring Cal North teams – from this week's matches in Boise are shown below. Final scores for the day's matches will be updated throughout each day. Cal North will also be posting selected action photos from the day's games on their social media channels throughout each event.
Be sure to follow Cal North on Instagram, Facebook and Twitter and see the latest updates and photos.
US Youth Soccer Far West Regional Championships
Boise, ID | Simplot Sports Complex

Friday, June 23, 2023
Saturday, June 24, 2023
Sunday, June 25, 2023
Monday, June 26, 2023 - Rest Day
Tuesday, June 27, 2023 - Quarterfinals
Wednesday, June 28, 2023 - Semifinals
| | | | | | |
| --- | --- | --- | --- | --- | --- |
| 8:00AM MDT | ALBION SC San Diego North B10 Academy | 0 - 1 | Ajax United Ajax United 10B Green (CA-N) | Simplot - 04 | 13U Boys |
Thursday, June 29, 2023 - Finals
| | | | | | |
| --- | --- | --- | --- | --- | --- |
| 10:30AM MDT | Real Colorado Real CO 2010 Boys Academy (CO) | 2 - 2 (3-2 PKS) | Ajax United Ajax United 10B Green (CA-N) | Simplot - 03 | 13U Boys |