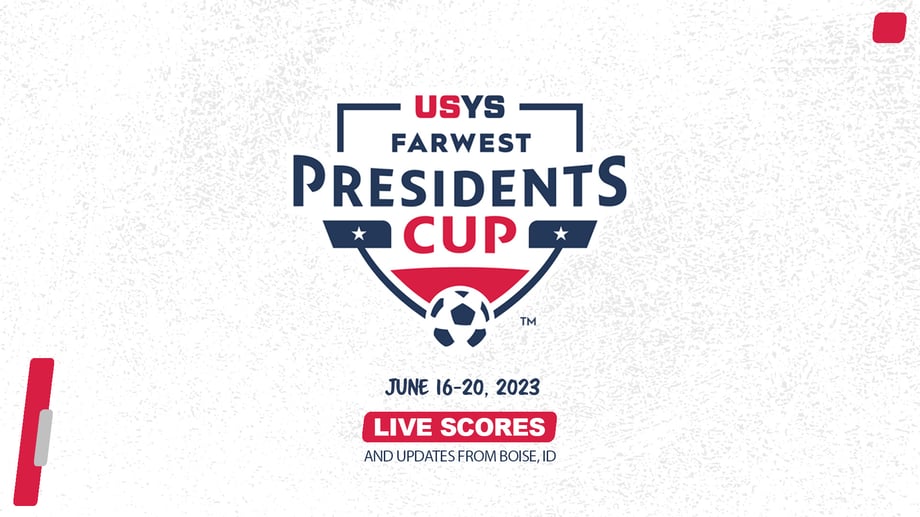 BOISE, Idaho (June 16-20, 2023) – Live scores and updates from the 2023 US Youth Soccer Far West Presidents Cup at the Simplot Complex in Boise, Idaho from June 16-20.
The event will feature 13U-19U boys and girls, who will be competing to move forward to the 2023 US Youth Soccer National Presidents Cup, which will take place July 7-11 in Wichita, Kansas.
Cal North has three teams in Boise this weekend taking part in Far West Presidents Cup. Three days of bracket play will lead off the event, with semi-finals scheduled for Monday, June 19th, and the finals round to follow on Tuesday, June 20th.
This year the following teams will advance to the National Presidents Cup:
13U-18U

: Both Champion & Finalist

19U:

Champion only

The 2023 Far West Regional Championships for the 12U boys and girls will be held alongside the Presidents Cup Regionals, with these teams competing for the regional title. (This is the top honor for this age group. They do not continue to Nationals.) Cal North has two U12 teams competing at this regional event this year. (This is the top honor for this age group. They do not continue to Nationals.)
Event Dates
June 16-18: Group Play

June 19: Semifinals

June 20: Finals

The 13U to 19U brackets for the US Youth Soccer Far West Regionals (part of the National Championship Series) will also take place in Boise, Idaho the following week, from June 23-29, 2023.
Scoreboards – focusing only on games featuring Cal North teams – from this week's matches in Boise are shown below. Final scores for the day's matches will be updated throughout each day. Cal North will also be posting selected action photos from the day's games on their social media channels throughout each event.
Be sure to follow Cal North on Instagram, Facebook and Twitter and see the latest updates and photos.
US Youth Soccer Far West Presidents Cup
Boise, ID | Simplot Complex

Friday, June 16, 2023
Saturday, June 17, 2023
Sunday, June 18, 2023
Monday, June 19, 2023 - Semifinals
8:00AM MDT

U16 Boys (Presidents Cup)

(0) Silicon Valley Eagles Youth Soccer 08-07B PSG (CA-N)

(5) PRIME Soccer Club PRIME SC 07 Boys SSS (NV)