Cal North and California North Referee Administration continue its commitment to improving the game & referee development in northern California.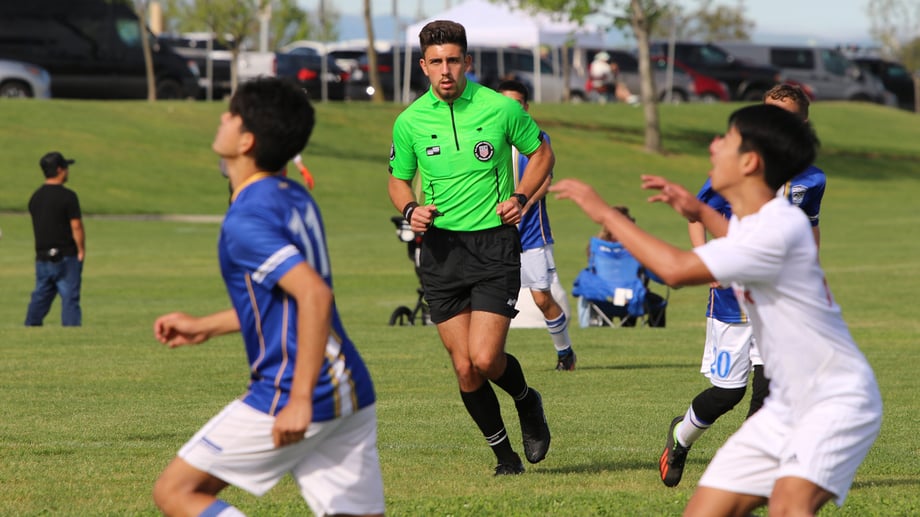 SACRAMENTO, Calif. ― Cal North & CNRA are pleased to share the list of 24 referees and 6 referee coaches that have been selected to represent CNRA and Cal North at the 2023 Far West Regional Championships in Boise, ID.
This group of individuals has been selected from an initial scouting roster of over 125 referees who were identified over the last 18 months via the referee development pathway that has been built together here in northern California.

Officials are initially identified through their participation in CNRA's web-based Continuing Education Program, and then are invited to attend a variety of events from November-May where our referee coaches and staff evaluate their performance on the field and their character off the field. As we get into the Spring, that list of officials is narrowed based on their performance until we arrive at the list we're sharing with you today.
WATCH: Cal North + CNRA | Referee Development Session during 2023 Cal North State Cup weekend

A full third of the roster of officials attending FWRC this year were identified and cultivated starting with the first partnership event between Cal North and CNRA - Founders Cup in November 2021. Our partnership over the last 18 months has successfully created the referee development pathway that we hoped for when we started these conversations several years ago.

"We're confident this group of officials will represent CNRA and Cal North well at Far West Regionals next month, and we look forward to our continued partnership with Cal North over the coming years to continue to provide this pathway for young referees in the future," said Matthew Buckman, CNRA Director of Referee Development.
List of referees attending 2023 USYS Far West Regional Championships in Boise, Idaho:
Abousleiman, Bernard
Amparan Ruiz, Jose Leon
Avina, Jorge
Bray, Ethan
Christiansen-Gallegos, Evyan
Cordova Munoz, Brian
Cruz Yengle, Juan Manuel
Dobrin, Vlad
Fernandez, Manuel
Gowland, Dashiell
Guillen, Roxana
Hausken, Eric
Hernandez, Eduardo
Hernandez, Jason
Le, Kaney
Martinez-Loyola, Alan
Patterson, Paul
Peralta Meza, Jessica Paola
Rapier, Isabella
Sanchez Martinez, Bruno G
Sinkevich, Ivan
Troyer, Nicholas
Vasquez Luna, Pedro
Zapien, Christian
List of Referee Coaches attending 2023 Far West Regional Championships in Boise, Idaho:
Derek Francois
Aidon Jennery
Samantha Moos
Linda Padilla
Kurt Swanson
Ron Leedy
If you are interested in learning more about how to become a referee or take advantage of any of the resources that CNRA provide, make sure to visit www.cnra.net