FOR IMMEDIATE RELEASE
CONTACT: Javier Arellano, Cal North Marketing & Communications Specialist, marketing@calnorth.org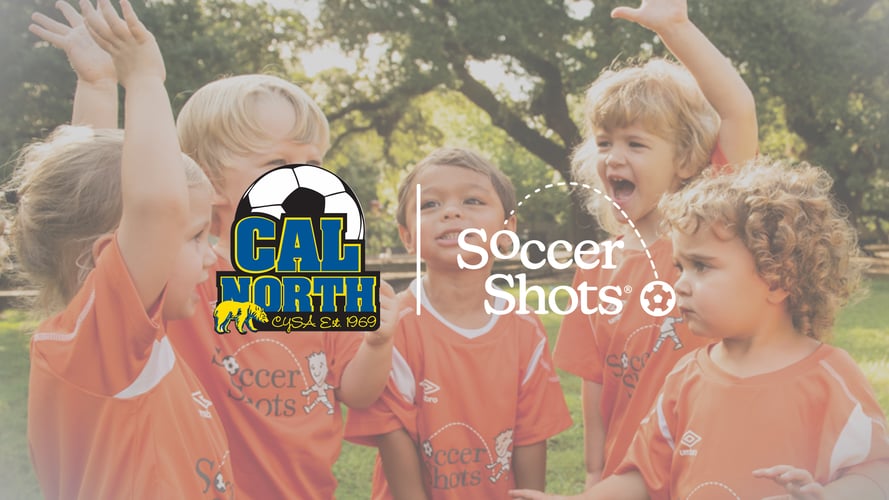 SACRAMENTO, CA (Jan. 28, 2022) — Cal North is excited to partner with Soccer Shots Sacramento North to enhance unique opportunities for 2-8 year-olds to enjoy the beautiful game from an early age. Children will benefit from Soccer Shots' mini, classic & premier programing that is complemented by their qualified coaching staff.
Additionally, this partnership will provide kids a natural way to transition into an organized recreational or competitive program in the Greater Sacramento region to continue fostering their love for the game.
VIDEO: The History of Soccer Shots
"Sharing in the mission of positively impacting children's lives through soccer, Soccer Shots Sacramento North is thrilled to partner with Cal North. Serving as the largest and most experienced soccer organization for over 50 years, we are delighted to be a part of a community that has played a central role in the growth and development of soccer in Northern California," said Dave Barnett, Soccer Shots Sacramento North Owner/Director. "We look forward to this partnership furthering the reach, impact and opportunity for all children to learn and grow through soccer, as well as providing a pathway to recreational and competitive programs in the Greater Sacramento region."
"These types of programs are incredibly important for younger children because, while they help increase confidence and improve physical and social skills, they also give families and communities a chance to realize success and a special connection in helping their children grow in a positive way. We look forward to working with Soccer Shots because they have proven methods and a track record of positive impact in the community," said Larry Svetich, Cal North District 6 Commissioner.
About Soccer Shots Sacramento North
Locally owned and operated, Dave and Megan Barnett launched Soccer Shots Sacramento North in 2014. Careers in Early Childhood Education, experience in sports administration, an extensive soccer background (as a player and coach), and a genuine passion for positively impacting the lives of children led the Barnett's to pursue the development of Soccer Shots in Sacramento. Comprised of 15 coaches, Soccer Shots Sacramento North currently serves 5,000 children a year at various child care centers, elementary schools and parks throughout the northern Sacramento region. Dave, Megan, Lena (daughter), and Marlo (dog) reside in Citrus Heights and are excited to share this wonderful program with the Sacramento community.
About Cal North Soccer Association
Cal North is the original youth soccer organization in Northern California, who has served generations of players, coaches, leagues, and clubs with storied histories. Cal North is a member of a much larger soccer community, and as a member, you are also a member of this world community. Players register to play with one of the more than 200 clubs or leagues formed by Cal North. Through affiliation, our leagues and clubs are also members of US Youth Soccer, US Soccer, and US Futsal. US Soccer, along with over 197 other national soccer organizations, are members of FIFA, the Federation Internationale de Football Association. FIFA serves as the international governing body for soccer and US Soccer has been a member since 1913. Together, local, national and international organizations form a family of support for the young soccer players of Cal North.
More information on Soccer Shots Sacramento North is available here.
###