FOR IMMEDIATE RELEASE
CONTACT: Javier Arellano, Cal North Marketing & Communications, marketing@calnorth.org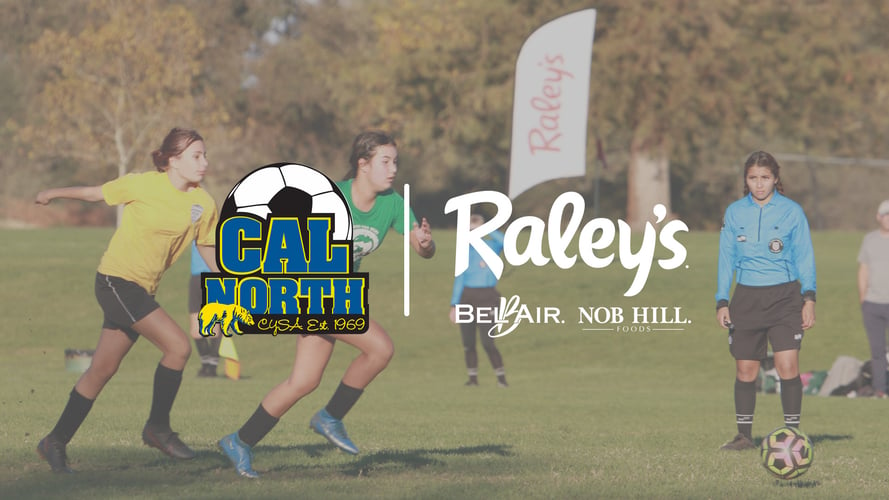 SACRAMENTO, CA (Mar. 10, 2022) —Cal North is excited for the partnership renewal with Raley's, the largest regional grocery chain in California and Nevada, following a two-year partnership that began in 2020.
The decision to extend the partnership between Cal North and Raley's reflects the shared values and desire to continue working together with the mission to serve families and communities in Northern California.
"We enjoy working with Raley's because of the shared values and focus on community and families. Raley's has been great partners to work with, even in difficult COVID-19 times," said Kevin Crow, Cal North Director of Player Development & Competitions. "Both Raley's and Cal North align in terms of goals and purpose and that is what makes partnerships function really well."
With the partnership extension, Raley's will remain title sponsor of the Cal North Cup Series, supporting youth soccer, including the State Cup, Presidents Cup, Association Cup, Founders' Cup and Jr. Cup Festival.
Additionally, Raley's and Cal North will continue to seek ways to collaborate on various community activations throughout the year in support of Cal North members.
We are proud to continue our partnership with the Cal North Youth Soccer Association," says Becca Whitman, Director of Community Relations at Raley's. "It is important that, together, we continue to build a healthy future for our next generation."
About Cal North Soccer Association
Cal North is the original youth soccer organization in Northern California, who has served generations of players, coaches, leagues, and clubs with storied histories. Cal North is a member of a much larger soccer community, and as a member, you are also a member of this world community. Players register to play with one of the more than 200 clubs or leagues formed by Cal North. Through affiliation, our leagues and clubs are also members of US Youth Soccer, US Soccer, and US Futsal. US Soccer, along with over 197 other national soccer organizations, are members of FIFA, the Federation Internationale de Football Association. FIFA serves as the international governing body for soccer and US Soccer has been a member since 1913. Together, local, national and international organizations form a family of support for the young soccer players of Cal North.
About Raley's
Raley's is a privately-owned and family-operated customer experience grocery company headquartered in West Sacramento, CA. Raley's stores are the destination for the best fresh products, affordable offerings and personalized service. The company's commitment to infusing life with health and happiness by changing the way the world eats, one plate at a time, has made it a trusted source for food, nutrition, and wellness. Raley's strives to enhance transparency and education in the food system in order to help customers make more informed, healthy food choices. Raley's operates 1,213 stores under four banners: Raley's, Bel Air Markets, Nob Hill Foods and Raley's O-N-E Market. Making healthier offerings accessible to everyone, Raley's has expanded beyond the store to operate grocery curbside pick-up and delivery in their nearby communities. Visit at www.raleys.com.
###