FOR IMMEDIATE RELEASE
CONTACT: Javier Arellano, Cal North Marketing/Communications Specialist, marketing@calnorth.org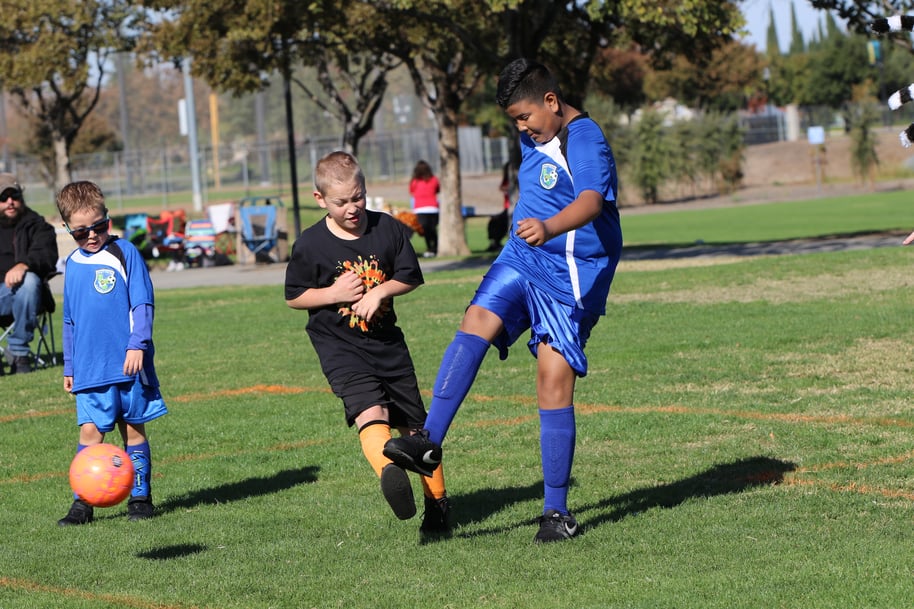 NORTHERN CALIFORNIA (November 17, 2022) - Cal North is rooted in its mission to bring soccer to every child regardless of ability. Cal North's vision of "kids first" has been the constant that guides us throughout our evolution and remains our primary motivation.

The Outreach Program for Soccer, or TOPSoccer, is a community-based recreational program specifically designed to help athletes with physical and mental disabilities participate in soccer. Cal North has taken part in the TOPSoccer Program since 1999, and is proud to announce two new volunteer chairs to help grow this vital program across Cal North clubs.

Wendy Greenberg is an Occupational Therapist who recognized the absence of a soccer program for children with special needs in her home of Walnut Creek. Joanna Grossman is a non-profit executive and longtime soccer volunteer who teamed with Wendy to start a TOPSoccer program within Walnut Creek Surf Soccer Club. Now in its 5th year, TOPS Walnut Creek Surf helps more than 50 players per season play, learn, and grow through soccer.

Wendy and Joanna are excited to bring their experience starting, marketing, training, and organizing their local TOPSoccer program to Cal North so all children in all areas can participate in the beautiful game.

"Soccer is a great connector. It not only brings people together at a local level, but across the world. And every child should have an opportunity to wear a soccer jersey, join a team, and play the game with friends in a safe, fun environment," said Joanna Grossman.

On Thursday, December 1st from 7:30-8:30 p.m. meet Wendy and Joanna, hear about how they grew a program from 12 players to 50, and how Cal North can support your club in establishing, restarting, or growing a TOPSoccer program. We will also go over grant writing tips for clubs with TOPS programs looking to apply for the US Youth Soccer Association TOPS grant. The zoom call is ideal for club managers, coaches, parents, and volunteers.
Zoom Information & RSVP
When: Dec 1, 2022 @ 07:30 PM Pacific Time (US and Canada)
Register here:
https://us02web.zoom.us/meeting/register/tZUscOCtrzwoE9xIw3Bpm0BbV9IqbpP8D2t4
CONTACT: Wendy Greenberg and Joanna Grossman, Cal North TOPSoccer Volunteer Chairs, wgreenberg@calnorth.org and jgrossman@calnorth.org
About Cal North Soccer Association
Cal North is the original youth soccer organization in Northern California, who has served generations of players, coaches, leagues, and clubs with storied histories. Cal North is a member of a much larger soccer community, and as a member, you are also a member of this world community. Players register to play with one of the more than 200 clubs or leagues formed by Cal North. Through affiliation, our leagues and clubs are also members of US Youth Soccer, US Soccer, and US Futsal. US Soccer, along with over 197 other national soccer organizations, are members of FIFA, the Federation Internationale de Football Association. FIFA serves as the international governing body for soccer and US Soccer has been a member since 1913. Together, local, national and international organizations form a family of support for the young soccer players of Cal North.
About Cal North TOPSoccer Program
Cal North TOPSoccer (The Outreach Program for Soccer) is a recreational sports program for children and adults with intellectual, emotional, or physical disabilities offered only through local US Youth Soccer-affiliated soccer clubs. TOPSoccer provides people with diverse abilities an opportunity to play soccer in a structured environment that is safe, fun, supportive, and inclusive.
###