The Two Groups Will Work Together to Provide Education and Guidance to Youth Soccer Clubs and Parents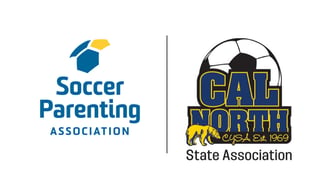 PLEASANTON, Calif. ― Cal North Soccer Association has announced a partnership today with the Soccer Parenting Association. The partnership will provide valuable resources and information through online and live educational opportunities. Additionally, clubs affiliated with Cal North will receive discounted access to the coach and parent education platform: Soccer Parent Resource Center.
"Our mission is to provide a fun and safe soccer experience at all ages and abilities for the youth soccer community," said Cal North's Executive Director Marley Wilson. "Soccer Parenting provides a resource for both club leaders and their parents that support this mission. This partnership will help us continue to promote a standard of behavior that leads to a positive and healthy atmosphere for all participants in the game."
The Soccer Parenting Association seeks to improve the experience for youth soccer players by engaging and supporting the players' parents on topics related to the Body, Mind, Coach, Parent, Next Level and the Game, as well as providing education for coaches to establish positive relationships with players and parents.
"The investment Cal North is making towards positively affecting the lives of soccer players, families and dedicated coaches in Northern California is commendable," said Founder of the Soccer Parenting Association Skye Eddy. "We are proud to work with Cal North and are encouraged by their commitment to improving the youth soccer landscape in the state."
ABOUT SOCCER PARENTING:
The Soccer Parenting Association believes that the top priority for all youth sport organizations should be a positive youth sporting experience where all children feel inspired, develop important life skills and establish healthy habits they will take with them for life. For more information, visit www.soccerparenting.com.