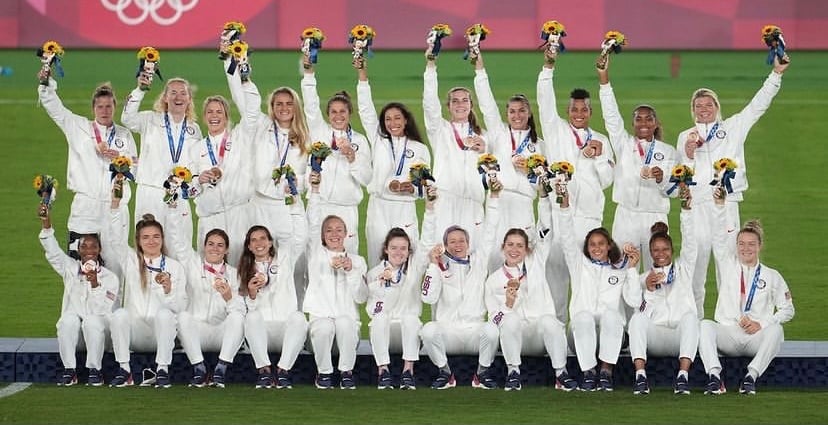 Photo Courtesy / U.S. Soccer
KASHIMA, Japan (Aug. 6, 2021) - Former Cal North players Megan Rapinoe, Abby Dahlkemper and Lynn Williams played an important role in the United States Women's National Team as they brought home the bronze medal from the Tokyo 2020 Olympics.
Megan Rapinoe (Redding, CA) started 3 out of 6 games, including the Bronze Metal Match and scored two goals to seal the third-place finish against Australia. The former Elk Grove United product adds this achievement to her already outstanding accolades, which include two FIFA World Cups (2015, 2019) and three Olympic participations ( 2012, 2016, 2020), to name a few.
Abby Dahlkemper (Menlo Park, CA) played the full 90 minutes in 3 of the 6 games, including the quarter-final win against the Netherlands. The former Mountain View Los Altos Soccer Club player experienced her first Olympics in Tokyo 2020.
Lynn Williams (Fresno, CA) came up big time when she was called upon. Williams did not feature in the first two group stage games, but had an immediate impact in the following three matches. The Fresno-native scored and assisted in the eventual quarter-final win against the Netherlands. Similar to Dahlkemper, this was Williams' first time playing in the Olympics.
The Cal North community is proud of the U.S. Women's National Team, especially Rapinoe, Dahlkemper and Williams who represented our region well in the Tokyo 2020 Olympics.