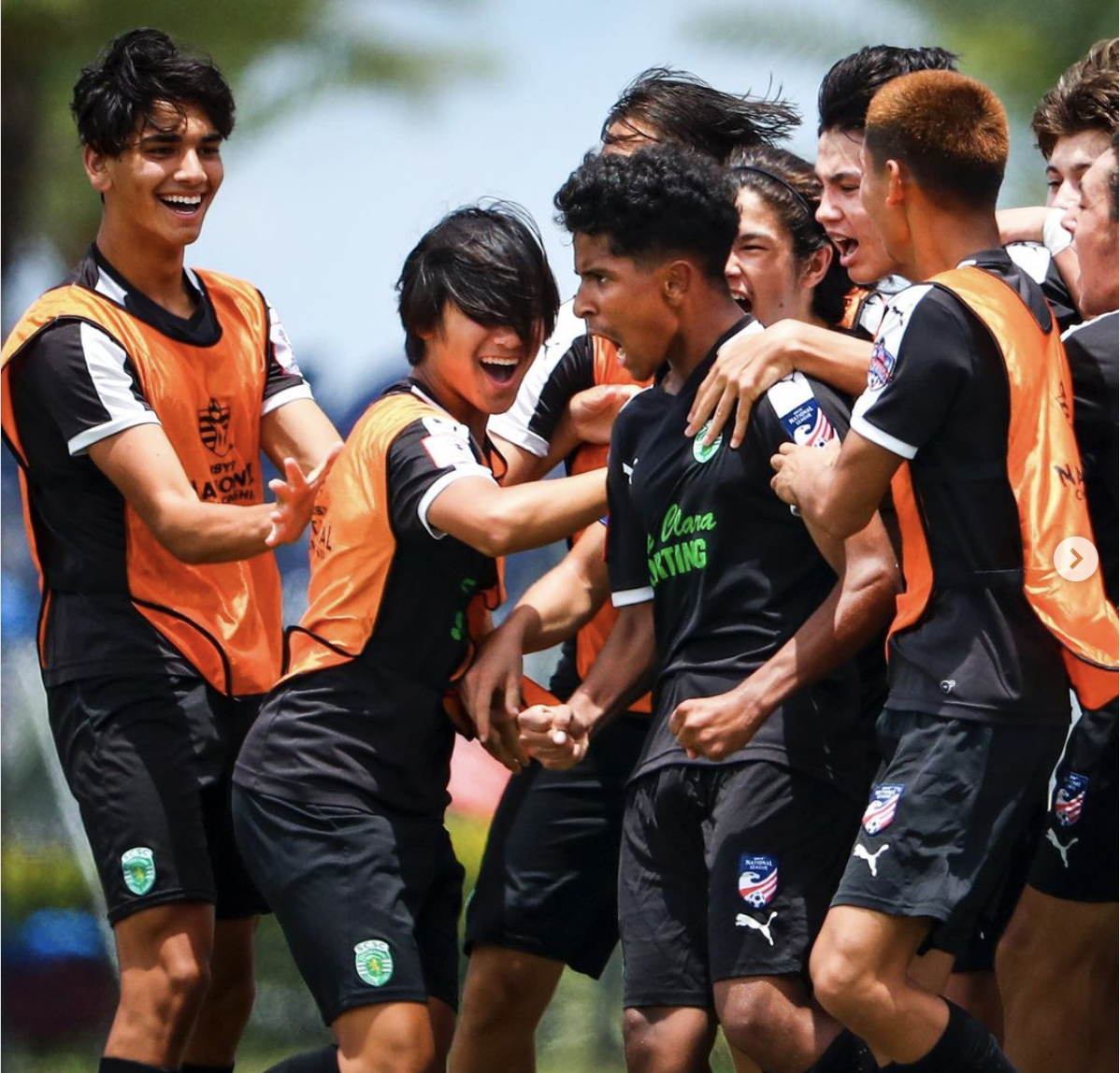 Santa Clara Sporting forward Alvaro Picon Jr. celebrates one of his four goals at the 2021 US Youth National Championship Series in Bradenton-Sarasota, FL. Photo Courtesy / US Youth Soccer
BRADENTON-SARASOTA, FL (July 30, 2021) - This summer several teams were able to represent Cal North in regional and national events. Two of those events being Far West Presidents Cup in Salt Lake City, UT and Far West Regional Championships in Boise, ID. At Far West Regional Championships, six teams moved on from group stage, four reached the semifinals and one reached the final. While no team won regionals, there was already a team that would be making the trip to the 2021 US Youth Soccer National Championship Series, the Santa Clara Sporting '05 Boys Green.
Winning regionals is one of two ways that US Youth Soccer allocates spots to the National Championship Series. The other way is via National League playoffs, which is how SC Sporting '05 Boys Green locked-in their ticket to nationals after winning the Greensboro event back in March.
You might also enjoy reading National League Playoffs - Greensboro: Santa Clara Sporting 05' Boys Green Are Writing History
Fast-forward to July for the National Championship Series, the conditions were challenging. Not only considering the competition on the field of play, but also external factors like weather conditions. "You step outside and you're glossing with sweat," said Team Manager Peter Nawbatt. Hot and humid, that's a fitting description for Florida weather that time of the year.
Despite the conditions, the team matched-up against Kings Hammer Academy from Kentucky in their opening game. Up two-nil for most of the game, the team ended up settling for a 2-2 draw. "We took our foot off the gas pedal and lost focus," recalls midfielder and Co-Captain Shawn Garlick.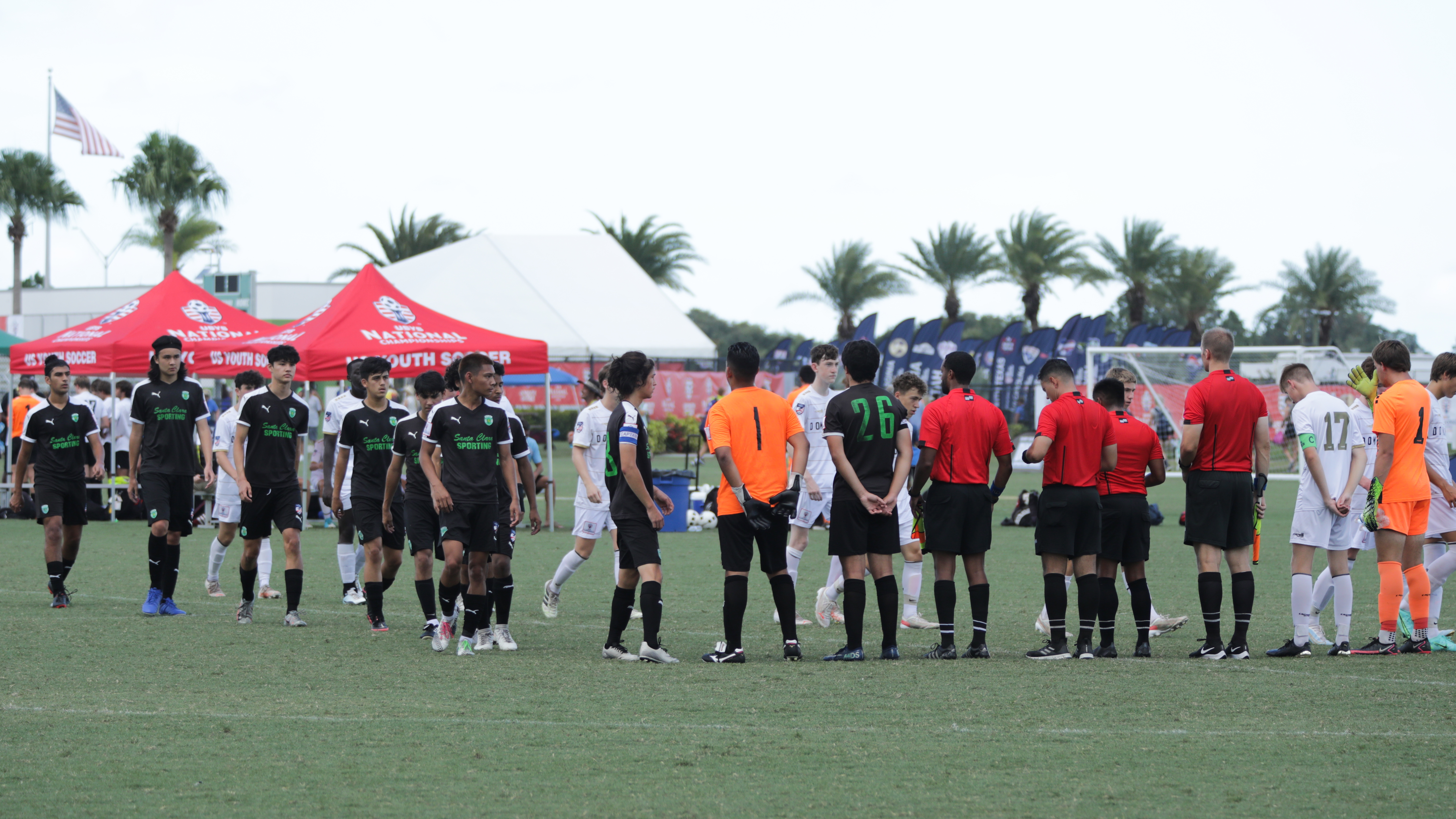 Santa Clara Sporting '05 Boys Green walk out prior to kick-off in their second game of the 2021 US Youth Soccer National Championships against PA Dominion FC. Photo Courtesy /Paul Aspuria
In their second game, the team came out of the gates with the mentality to win. They knew they needed a result against PA Dominion FC and they did. Sporting secured the three points along with a clean sheet for goalkeeper Leo Godinez. You can watch the full game (recorded livestream) HERE.
Things looked promising heading into the last day of group play for Sporting. The team was sitting in second place with four points behind D'Feeters Kicks SC, but ahead of Kings Hammer Academy and PA Dominion FC.
Unfortunately, the final group stage game against D'Feeters Kicks SC did not go as planned. The Texas-based team ended up winning 3-2. With this result and a combined win from Kings Hammer Academy over PA Dominion FC, SC Sporting dropped down to third place in their group and did not move on to semifinals.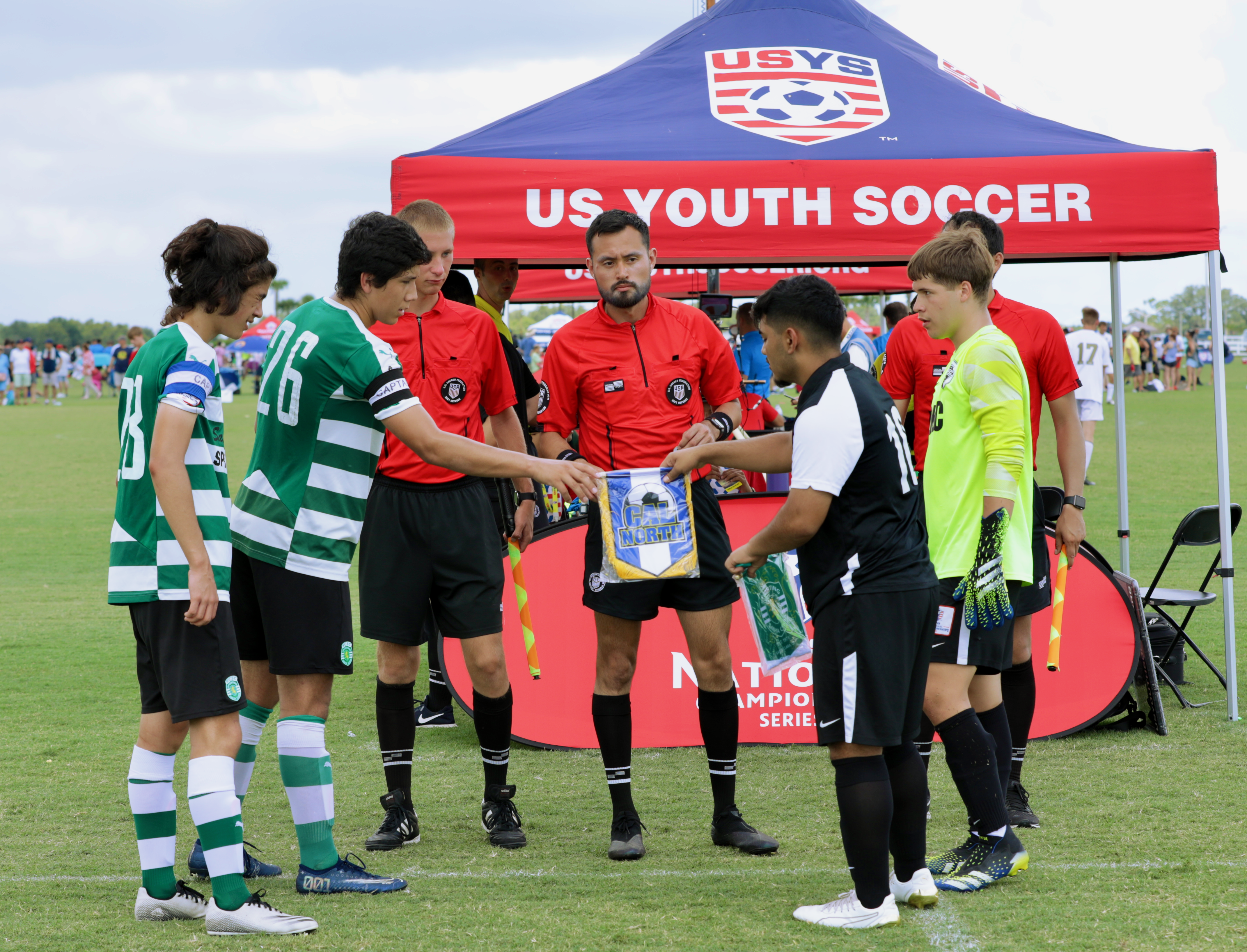 Santa Clara Sporting '05 Boys Green captains Diego Rosillo and Shawn Garlick exchange pennants with D'Feeters Kicks SC in their third game of the 2021 US Youth Soccer National Championships. Photo Courtesy /Paul Aspuria
"We wish we would've been better prepared," said Nawbatt. "We've had a very tame summer here in Northern California. Our attempts to find a scrimmage in hot places did not materialize in preparation for this. So we really had to trust whatever training we had," he added. "Competition wise, we're right there with the best."
For goalkeeper Leonardo Godinez and midfielder Shawn Garlick, nationals had some positives despite the results. "In general the experience was great," said Godinez. "We were all together, and picked ourselves up." Godinez finished the tournament with one clean sheet and one assist. Garlick added that this tournament was an "eye-opener," but being in the same environment, same hotel, and always together with his teammates, helped the team bonding.
The focus now shifts to US Youth Soccer National League with hopes of reaching the National Championships again next summer. Peter Nawbatt claims "they are not done, they got a taste of it and they want more."
2021 US Youth Soccer National Championship Series
Santa Clara Sporting '05 Boys G
reen | July 18-25, 2021 | Bradenton-Sarasota, FL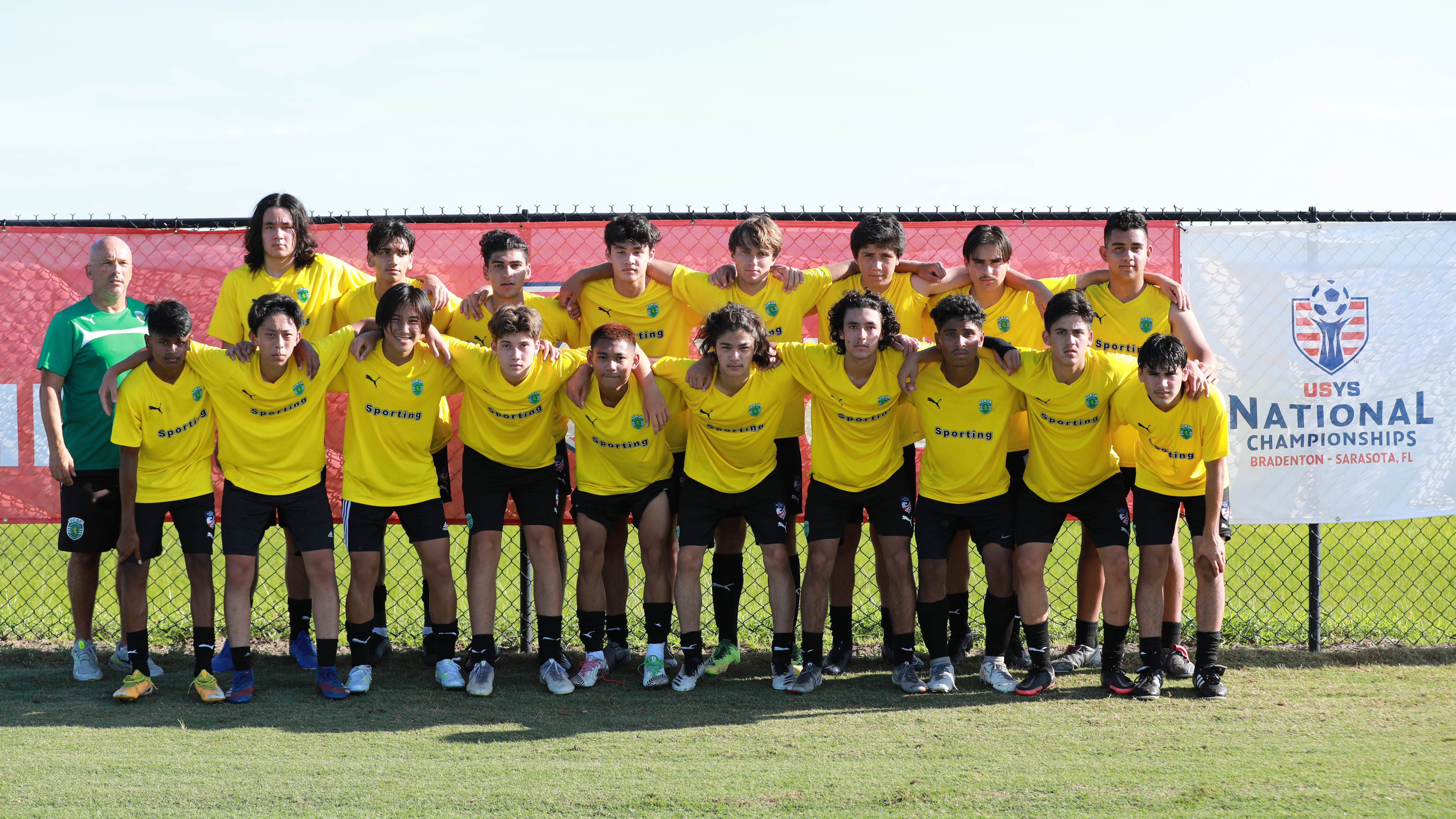 Santa Clara Sporting '05 Boys Green take a team photo at 2021 US Youth Socce
r National Championships. Photo Courtesy /
Paul Aspuria
GK
#1 Leonardo Godinez (1 assist)
Defenders
#26 Diego Rosillo (Co-Captain, 1 assist)
#7 James Moore
#4 Wahid Salemi
#19 Samuel Pearman
#24 Alessandro (Max) Rios
#5 Talha Ahmed
#6 Pavan Nawbatt
Midfielders
#28 Shawn Garlick (Co-Captain)
#8 Anthony Bonev
#18 Erick Villasenor (1 goal)
#2 Julian Maass
#10 Richard Liu
Forwards
#23 Enoedis Quintana (2 assists)
#17 Cesar Garcia
#11 Alvaro Picon Jr (4 goals)
#36 Christopher Coquilla
#9 Brandon Aspuria
Coaching Staff
Head Coach - Carlos Brasil
Asst. Coach - Erik Brasil
Team Manager - Peter Nawbatt
--------------------------------------------------------------------------------------------------------
Established in 1971, Santa Clara Sporting has proven as to why they are one of the best youth soccer clubs not only in California, but in the country. The club has developed dozens of players that have gone on to play at top Division I schools and into the professional ranks. One of the club's most notable alumni is US Men's National Team Captain and LA Galaxy star, Sebastian Lletget. Coach Carlos Brasil, Head Coach for Sporting '05 Boys Green, grew up playing for the club and is now developing this talented group. Brasil also coached Lletget during his youth at Sporting.
This year Santa Clara Sporting will be celebrating their 50th year anniversary.