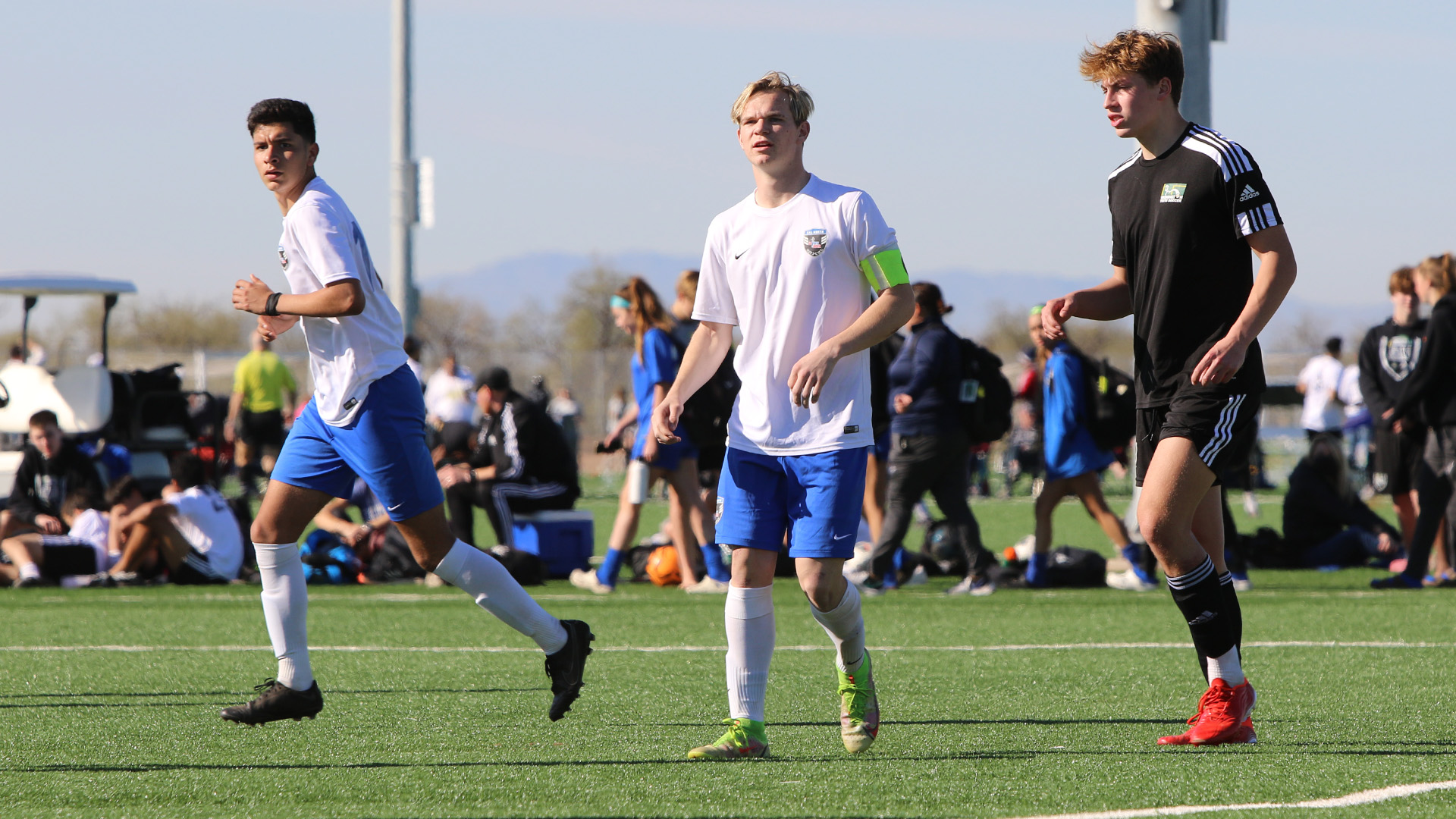 SACRAMENTO, CA (May 16, 2022) - For 37 years now, the Friendship Cup tournament has served as one of the top ODP tournaments in the country. The list of professional and national team players who have played in this event is endless and with the Portland Timbers and Portland Thorns establishing themselves as the home for the Oregon ODP program, the event takes a new direction, hosting MLS pre‐academy teams, and ODP teams. May 27-30, 2022, the 37th annual Friendship Cup Tournament will once again host some of the top youth players and teams in the country in Beaverton, Oregon.

In 2021, teams from Oregon ODP/Pre-Academy, San Jose Earthquakes Pre-Academy, Washington ODP, Cal-North ODP, Colorado ODP, Alaska ODP, Crossfire Pre-Academy (Seattle), Timbers Alliance All-Star Teams, San Francisco Elite, Diablo and SMC Earthquakes made up the 100-team event. More than 50 college, regional and national coaches were also on hand to evaluate and scout players. Oregon's largest soccer retail company was also on hand to provide a true Northwest soccer weekend in Soccer City USA.
Congratulations to the following players that were selected for the upcoming 2022 Portland Timbers Friendship Cup in Portland, OR. This event will be the final event of the 2021/2022 ODP cycle before 2022/2023 ODP Tryouts take place in August.
Participating the last 5 Years
Portland Timbers Oregon ODP/Pre-Academy
Portland Timbers DA
San Jose Earthquakes Pre-Academy
Seattle Sounders Pre-Academy
Portland Thorns Girls Academy
Washington ODP
Cal-North ODP
Colorado ODP
Alaska ODP
Eastern Washington ODP
Crossfire Pre-Academy (Seattle)
Crossfire ECNL (Seattle)
Diablo FC
San Francisco Elite
Washington Premier ECNL
SMC Earthquakes
Marin FC
Player Pool - Last Name, First Name
2005 Boys - Benavides-Garb, Alejandro
2005 Boys - Calvillo Hernandez, Jose Abel
2005 Boys - Cano, Manuel
2005 Boys - Carey, Montgomery
2005 Boys - Hancock, Ian
2005 Boys - Hernandez, Ezekiel
2005 Boys - Jacobson-Bell, Tobias
2005 Boys - LaGrasse, Tyler
2005 Boys - Lomeli, Ramon Jr.
2005 Boys - McKinney, Shawn
2005 Boys - Mendiola Mora, Ervin
2005 Boys - Montero, Adam
2005 Boys - Rahimi, Sultan
2005 Boys - Reyes Vidal, Jorge
2005 Boys - Rhee, Joshua
2005 Boys - Rodriguez, Joshua
2005 Boys - Smith, Cameron
2005 Boys - Wallis, Nicholas
2005 Girls - Bahia, Arpan
2005 Girls - Barth, Jillian
2005 Girls - Drew, Caitlynn
2005 Girls - Elbeshity, Halah
2005 Girls - Farber, Ellie
2005 Girls - Grundland Lanuza, Sydney
2005 Girls - Hartfield, Zoey
2005 Girls - Houlihan, Alyssa
2005 Girls - Juarez, Madison
2005 Girls - Lindstrom, Julia
2005 Girls - Obermeyer, Kyndra
2005 Girls - Pineda Aliamus, Paige
2005 Girls - Reed, Melanie
2005 Girls - Rodriguez, Isabella
2005 Girls - Savig, Alyssa
2005 Girls - Schroeder, Lexi
2005 Girls - Stiner, Regan
2005 Girls - Sulzberg, Leah
2006 Boys - Busette, Alaix
2006 Boys - Chalwin, Joseph
2006 Boys - Contente, Benjamin
2006 Boys - Cristino Apolinar, David
2006 Boys - Dominguez Cessna, Leonardo
2006 Boys - Figueroa, Skyler
2006 Boys - Harding, Blake
2006 Boys - Kremer, Hakuto
2006 Boys - Lee Olson, Owen
2006 Boys - Malhi, Amar
2006 Boys - Medina, Jorge
2006 Boys - Miller, Jeremy
2006 Boys - Moore, Canyon
2006 Boys - Nunez, Brody
2006 Boys - Rascher, Aidan
2006 Boys - Rittenberg, Nolan
2006 Boys - Rolf, Adam
2006 Boys - Tseu, Carter
2006 Girls - Arntzen, Kennedy
2006 Girls - Dwarka, Anisha
2006 Girls - Ekholdt, Lila
2006 Girls - Estabrook, Isis
2006 Girls - Faucette, Kiana
2006 Girls - Griffith, Reese
2006 Girls - Hales, Maia
2006 Girls - Ivey, Alivia
2006 Girls - Lopez, Angelina
2006 Girls - Mathieson, Ava
2006 Girls - Perkins, Lakelee
2006 Girls - Phair, Ella
2006 Girls - Polk, Alyssa
2006 Girls - Porubski, Shannon
2006 Girls - Schlosser, Hailey
2006 Girls - Tinsley, Molly
2006 Girls - Tollefson, Ella
2006 Girls - Winegar, Juno
2007 Boys - Adams, Oliver
2007 Boys - Borovikov, Michael
2007 Boys - El-Sherif, Andrew
2007 Boys - Farley, Colin
2007 Boys - Georgeson, Luke
2007 Boys - Gonzalez-Alvarez, Andres
2007 Boys - Habhab, Nicholas
2007 Boys - Hernandez Lopez, Giovanny
2007 Boys - Limon, Elijah
2007 Boys - Lopez, Alexis
2007 Boys - Mata, Kole
2007 Boys - Mazariegos, Kevin
2007 Boys - Montejano, Avery
2007 Boys - Ortiz, Artemio
2007 Boys - Rattigan, Ronan
2007 Boys - Rodriguez, Santiago
2007 Boys - Sutton, Trevor
2007 Boys - Topete, Donovan
2007 Girls - Butters, Megan
2007 Girls - Cantu, Genevieve
2007 Girls - Collet, Whitney
2007 Girls - Doughty, Hayley
2007 Girls - Duink, Izabella
2007 Girls - Elbeshity, Hibah
2007 Girls - Fonseca, Sarah
2007 Girls - Ghibanescu, Daniela
2007 Girls - Griffin, Ella
2007 Girls - Hsieh, Alexandra
2007 Girls - Kambara-Coughlin, Hanae
2007 Girls - Kraemer, Julia
2007 Girls - Leikin, Raya
2007 Girls - Luengo, Jocelyn
2007 Girls - Masetti, Lauryn
2007 Girls - Sapiz, Rafaella
2007 Girls - Smith, Hailey
2007 Girls - Yang, Mia
2008 Boys - Cazares, Sebastian
2008 Boys - Cortez-Reyes, Nicolas
2008 Boys - Cotter-Norwood, Bilal
2008 Boys - Davis, Blaine
2008 Boys - Dunn, Aidan
2008 Boys - Gonzalez Rosas, Angel
2008 Boys - Gutierrez, Francisco
2008 Boys - Hamp II, Timothy
2008 Boys - Harris, Emmanuel
2008 Boys - Lopez -Avalos, Oliver
2008 Boys - Luong, Max
2008 Boys - Motronchik, Mikel
2008 Boys - Nguyen, Maxwell
2008 Boys - Ruiz-Martinez, Diego
2008 Boys - Sandoval Jr., Rodrigo
2008 Boys - Thao, Christian
2008 Boys - Tse, Michael
2008 Boys - Young, Eden
2008 Girls - Bella, Lily
2008 Girls - Costanzo, Giovanna
2008 Girls - Farmer, Kylie
2008 Girls - Gaunt, Macey
2008 Girls - Gilgallon, Rylan
2008 Girls - Goebel, Josslyn
2008 Girls - Irizarry, Camila
2008 Girls - Jones, Avery
2008 Girls - Lawrence, Elliana
2008 Girls - McCormick, Fiona
2008 Girls - McLin, Aubrey
2008 Girls - Minor, Michelle
2008 Girls - Olson, Chloe
2008 Girls - Savig, Camryn
2008 Girls - Shalauta, Isabella
2008 Girls - Wallway, Elsa
2008 Girls - Willson, Rowan
2008 Girls - Woods, Isabella
2009 Boys - Aguilar, Adrian
2009 Boys - Barthmaier, Brayden
2009 Boys - Barthmaier, Austin
2009 Boys - Cervantes, Santiago
2009 Boys - Cifuentes, Johan
2009 Boys - Frueh Vazquez, Adrian
2009 Boys - Garcia, Gene
2009 Boys - Hunt, Dylan
2009 Boys - Igleheart, Alexander
2009 Boys - Kilimnik, Alexander
2009 Boys - Kung, August
2009 Boys - Lunar, Guillermo
2009 Boys - Munoz, Christopher
2009 Boys - Noey, Luke
2009 Boys - Tate, James
2009 Boys - Trelles, Christian
2009 Boys - Yepez, Jonathan
2009 Boys - Yzuel, Mason
2009 Girls - Bower, Charlotte
2009 Girls - Brook, Sophia
2009 Girls - Brunal, Natalia
2009 Girls - Combs, Lila
2009 Girls - Conway, Kendall
2009 Girls - Denman, Danica
2009 Girls - Gallegos, Elihanna
2009 Girls - Gil, Isela
2009 Girls - Janopaul, Jane
2009 Girls - Johnson, Francesca
2009 Girls - Jones, Addison
2009 Girls - Mcbride, Molly
2009 Girls - McCann, Hailee
2009 Girls - McCarthy, Gabrielle
2009 Girls - McIntosh, McKenna
2009 Girls - Reid, Evangeline
2009 Girls - Stegall, Keira
2009 Girls - White, Norah
2010 Boys - Astera, Leopold
2010 Boys - Crawmer, Emiel
2010 Boys - Douhab, Jonah
2010 Boys - Gourlay, Zachary
2010 Boys - Kim, Luca
2010 Boys - Mamuad, Makaio
2010 Boys - Man, Hudson
2010 Boys - Medina, Julian
2010 Boys - Mohammad Ishak, Zayden
2010 Boys - Oust, Luke
2010 Boys - Quintanilla, David
2010 Boys - Restrepo, Evan
2010 Boys - Salter, Julian
2010 Boys - Smith, Graham
2010 Boys - Taylor, Chase
2010 Boys - Tomori, Cruz
2010 Boys - Utush, Grayson
2010 Boys - Yoon, Daham
2010 Girls - Byun, Lynn
2010 Girls - Campbell, Lila
2010 Girls - Chavez, Belina
2010 Girls - Evans, Milan
2010 Girls - Fonseca, Janessa
2010 Girls - Ivey, Aviana
2010 Girls - Kochman, Grace
2010 Girls - Ralls, Julia
2010 Girls - Ramos, Amayah
2010 Girls - Rauscher, Alana
2010 Girls - Sop, Clara
2010 Girls - Stemler, Victoria
2010 Girls - Sullivan, Emma
2010 Girls - Swindle, Jayla
2010 Girls - Thompson, Ny'Ema
2010 Girls - Thompson, Serenity
2010 Girls - Ventura, Kaitlyn
2010 Girls - Zuniga, Georgianna