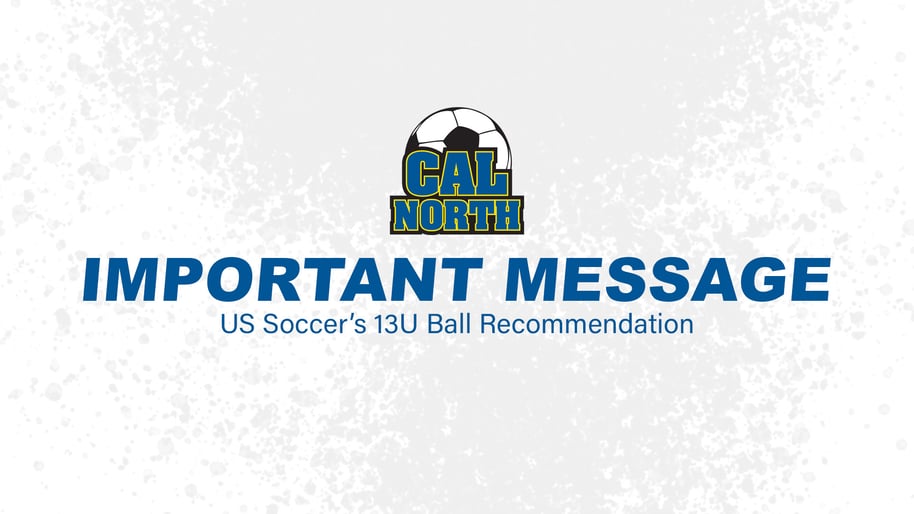 MEMO
To: Cal North Membership
From: Marley Wilson, Executive Director of Cal North
Date: August 29, 2023
Re: US Soccer's 13U Ball Recommendation
Beginning with Fall 2023 play, U.S. Soccer is updating the ball size recommendation for the 13U age group.
At this time, Cal North strongly supports this transition by the Fall of 2024. It is important that we continue to endorse the recommendation from US Soccer, while also comprehending that this transition is commencing at the present moment.
The current recommendation has been to utilize a size 5 ball for U13 play. However, following internal research, literature review, international benchmarking, and feedback from our members the recommendation will be updated to a size 4 or lighter size 5 ball. From a player safety perspective, there is also a consensus among the Chief Medical Officers of U.S. Soccer, MLS, and NWSL to utilize a size 4 ball for U13 with a lower PSI.
Members have requested more flexibility on this recommendation, and this update will assist players during their transition to U13, as well as provide alignment with FIFA guidelines on age-appropriate ball specifications.
US Soccer U13 Ball Recommendations.PDF
Looking to purchase soccer balls in bulk? Please reach out to mwilson@calnorth.org for more information.
Current Cal North Partners