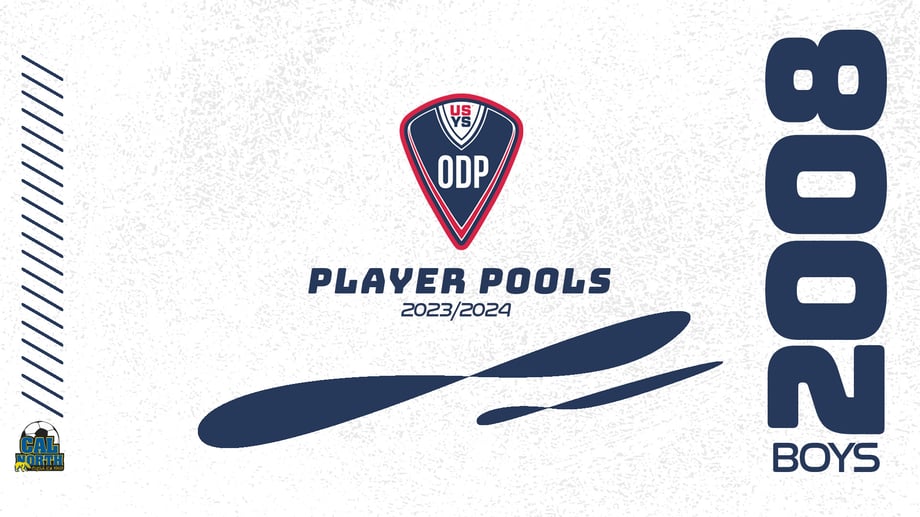 Northern California - The Cal North Olympic Development Program is excited to announce the 2008 Boys Player Pool for the 2023/2024 year. These players have taken another step in their player development pathway as they will be training & competing with some of the best players in Northern California to further enhance and develop their game.
Cal North ODP player pools will continue to train in the coming months as they prepare for the 2024 ODP West Championships in January, where only a select few will make the travel team to represent Cal North against the other states in the West Region.
Below is the 2008 Boys team roster for the 2023/2024 ODP season.
2008 Boys
Bainotti, Lucca
Hometown: Rocklin

Becerra, Edwin
Hometown: Hayward

Berman, Jacob
Hometown: Scotts Valley

Bolender, Dominic
Hometown: Castro Valley

Briceno, Brodie
Hometown: Petaluma

Bridges, Benjamin
Hometown: Lincoln

Bunting, Joey
Hometown: Petaluma

Cendejas, Julian
Hometown: Madera

Dukes, Eli
Hometown: Hollister

Dunn, Aidan
Hometown: San Anselmo

Estrada Cruz, Brenden
Hometown: Antioch
Garcia, Santiago
Hometown: Visalia

*Goetting, Jake
Hometown: Berkeley

Gomez, Jancarlos
Hometown: Sonoma

Gonzalez, Angel
Hometown: Sacramento

Hernandez, Erik
Hometown: Petaluma

Homer Silva, Lenin
Hometown: San Francisco

Kaley, Dylan
Hometown: Rocklin

Lopez-Avalos, Oliver
Hometown: Rio Linda

Lozano, Daniel
Hometown: Aptos

Luong, Max
Hometown: Rocklin

Magdaleno, Fabian
Hometown: Madera

Maldonado Gramajo, Jordan
Hometown: Petaluma

Mohammad, Adnan
Hometown: Elk Grove

Molina, Jose
Hometown: Santa Rosa

Moya, Robert
Hometown: Watsonville
Nguyen, Maxwell
Hometown: Santa Clara

Ortiz, Sneijder
Hometown: Madera

Palacios, Alfonso
Hometown: Madera

Paskey, Reid
Hometown: Sacramento

Peeler, Nathan
Hometown: El Cerrito

Perez Megia, Rodrigo
Hometown: Fresno

Pratte, Christopher
Hometown: Livermore

Pratte, Jacob
Hometown: Livermore

Reyes, Dylan
Hometown: Petaluma

Sanchez, Emiliano
Hometown: Visalia

Sandoval Jr., Rodrigo
Hometown: San Mateo

Steele, Hudson
Hometown: Roseville

Topete, Nicolas
Hometown: Aromas

Tracey, Patrick
Hometown: Aptos

Trejo, Yahir
Hometown: Windsor

Tse, Michael
Hometown: Elk Grove

Urincho, Christian
Hometown: Windsor

Villarreal, Joaquin
Hometown: San Jose
* Denotes West Regional Player