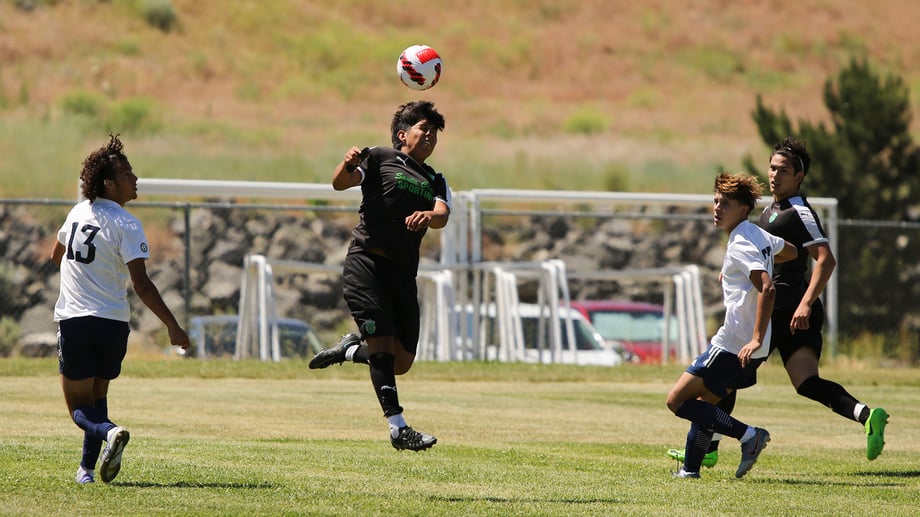 BOISE, ID (June 25, 2022) - Santa Clara Sporting 03/04B Green advance to the regional final at the 2022 US Youth Soccer Far West Regional Championships taking place in Boise, Idaho.
Coming off a scrappy 2-1 win in quarterfinals against Colorado, Santa Clara Sporting 03/04B Green matched up against East Valley FC from Arizona in the semis for a place in the 2022 Far West Regional Championships match.
The Sporting boys put on a quality shift from the fist whistle, combining and pressuring the East Valley defense to make mistakes. The first mistake they had, Santa Clara capitalized on it, recovering the ball in the attacking third after a poor kick from the Arizona goalkeeper and pushing the ball forward on them.
Leo Garcia finished far post after a run from behind and an exquisite pass from captain Kasdan Blattman. Sporting went up 1-0.
The game settled in after the goal with both teams sharing possession of the ball and creating opportunities, but none being threatening enough.
For the second half, there was more action on both ends of the field. East Valley came out pushing their backline up in search of the equalizer. Sporting was able to capitalize on that modification, breaking through with a beautiful run from Daniel Santillan on the left flank, leaving Arizona defenders behind. Santillan went on to deliver a tap in for Devin Brown to add the second one for Sporting.
The third goal came in similar fashion, with Devin Brown playing a through ball for Leo Garcia to run into behind East Valley defenders and laying it off for Bernardo Zeballos to simply tap it in. That goal secured the win for the Sporting 03/04B Green boys to reach the regional championship match.
The win came with a cost though, as Coach Castañeda will be without three players due to red cards or injuries. However; he will have forward Tamba DiMattia available after serving his two match suspension.
The Sporting boys will take on Albion SC Las Vegas (NV), who finished in first place of Bracket D and has eliminated Oregon in quarterfinals and Idaho in the semis.
WATCH: Goals from semifinal Santa Clara Sporting 03/04B Green vs Arizona
Below is the information for tomorrow's 19U Boys - 2022 US Youth Soccer Far West Regional Championships.