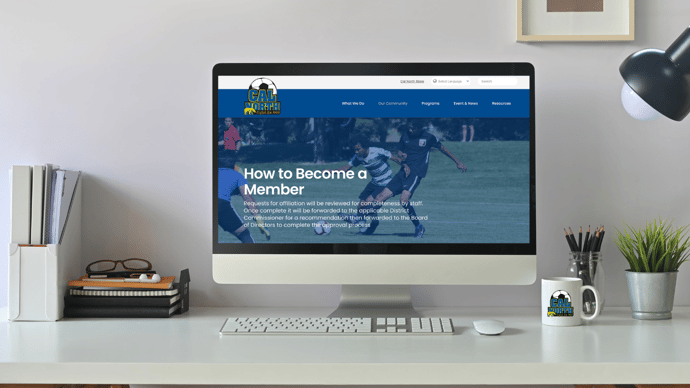 2023 - 2024 Affiliation
How to Become a Member
Requests for affiliation will be reviewed for completeness by staff. Once complete it will be forwarded to the applicable District Commissioner for a recommendation then forwarded to the Board of Directors to complete the approval process.
Our goal is to bring the beautiful game of soccer to as many communities in Northern California as possible!
Start the conversation today and find out if you are a good fit for Cal North.
What Affiliation Is?
By affiliating with Cal North your players, parents and coaches become part of the most well known soccer organization in the nation.
Your voice is heard! You become a voting member of our democratically structured organization.
You gain exclusive playing opportunities that lead to regional and national championships.
Your players become the central focus of our health and safety initiatives.
Last but not least, we offer full-service, flexible solutions to help you achieve your goals!
2023 - 2024 Affiliation for New Members
If you are new to Cal North you can submit an application online in GotSport to request affiliation.

New applications will be reviewed by the Cal North Board of Directors.
Whether you are primarily a grassroots recreational soccer organization, or looking for national caliber competition, let us help you succeed!
To get started, you'll want to make sure you've meet these minimum requirements below:
Current copy of your league's operating procedures (i.e. Constitution, Bylaws, General Rules)
Proof of current good standing with the IRS
Proof of current good standing with the Secretary of State
A copy of your league or club's current Directors, and Officers Insurance (Recommended)
Proof of non-profit status
2023 - 2024 Affiliation for Returning Members
If you are a returning member organization, you can renew your affiliation online through GotSport.
How to submit League Affiliation through GotSport.
You can also find the Affiliation Agreement under our Forms and Resources page.
Members that change by using a different non-profit organization number and subsequently use a different name must complete the "22-23 New Member Affiliation" as a new affiliate member.
Reminders and Deadlines
ALL AFFILIATION AGREEMENTS ARE DUE March 1, 2023.
PENALTIES FOR FAILURE TO MEET DEADLINE AS STATED ARE AS FOLLOWS:
NOT IN BY MARCH 1ST: $50 FINE
NO IN BY APRIL 1ST: $100 FINE, LEAGUE TO BE PUT ON PROBATION FOR THE FOLLOWING YEAR.
Any and all prior outstanding financial obligations due to Cal North must be paid in full. Once all requirements are met the application will be submitted for review and initial processing. Please allow up to 3-5 business days for the application to be reviewed. Applications will be reviewed and processed on a first come, first served basis.
Certificate Of Insurance(COI) Requests
Requests are acknowledged only from California Youth Soccer Association Inc. affiliated Members.
For the 23-24 season, the fee is $25.00 per certificate.

Certificate(s) must only be used for sanctioned events.
Members are required to be in good financial standing from the previous year in order to receive a Certificate of Insurance (COI).
Member must already have submitted Affiliation for the current year and be approved by the State and District.
Members is required to register or plans to register players for the current year to receive their certificate(s). Cal North will not be accepting requests from members who are not registering players.